Tensions mount as August war anniversary approaches
By Mzia Kupunia
Wednesday, August 5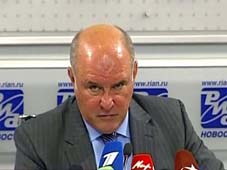 With the first anniversary of the August war approaching more and more accusations and counter accusations about provocations and escalating the situation in the conflict zones are being heard, in the mouths of Georgians, Russians and representatives of the de facto republics.
Georgian authorities reported late on August 3 that Ossetian militia had fired three grenades at the Georgian village of Plavismani, where a Georgian Interior Ministry checkpoint is located. A grenade was also fired in the direction of Otrevi, where Russian soldiers are based. No casualties were reported. Georgian media reported the comments of some local residents who said that they had noticed Russian military hardware being moved around close to the administrative border with South Ossetia. The Georgian Interior Ministry reiterated its call to the "occupational forces" to "refrain from provocative actions and making the situation tense in the region."
The de facto South Ossetian authorities accuse the Georgian side of opening fire from Tbilisi-controlled territories in the direction of Otrevi, which is controlled by separatist forces. According to the de facto South Ossetian Defence Ministry, three mortar rounds were fired from the village of Plavismani to the village of Otrevi. Georgian law enforcers have denied these accusations, calling them "yet another provocation." Head of the Shida Kartli Regional Police Department Vladimer Jugheli has said that the Russian "occupational forces" and de facto authorities are staging all kinds of provocations in order to destabilise the situation in the conflict zone. "No fire was opened in direction of the village of Otrevi," Jugheli said.
Meanwhile, the Russian side has said the Georgian Government is planning some provocations on the anniversary of the Russian-Georgian war. Speaking to the
Rossyiskaya Gazeta
, Russian Deputy Foreign Minister Grigory Karasin said Russia is deeply concerned about the actions of the Georgian Government, which are designed to militarise the state. "Some states accept this fact very calmly and positively," Karasin noted in his interview. He warned that Russia is taking "specific measures to prevent the re-armament of Saakashvili's regime." Karasin expressed his discontent about the military trainings on Georgian territory, saying that the trainings cause additional tension in the region. He said Russia cannot stay "indifferent" in this case, adding that stability in the Caucasus is one of the key issues of Russia's strategic security. "We don't have the right to abdicate responsibility for preventing injustice and violence against small nations. Of course we will prevent Tbilisi taking revenge," the Deputy Foreign Minister stated.
The EU has expressed its concern about the mounting accusations by the Georgian and South Ossetian sides about shellings in the conflict zone and has called on both to "refrain from any statement or action that may lead to increased tensions at this particularly sensitive time." According to the statement released by Sweden, which currently holds the EU Presidency, "the European Union Monitoring Mission patrols on the ground in Georgia have seen no evidence so far to confirm the mutual accusations of shellings." The EU called on the sides to give the EUMM "unrestricted access to both sides of the South Ossetian administrative boundary line."