Government wants to create "fully independent" court system
By Messenger Staff
Thursday, August 6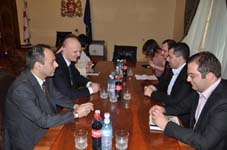 The Government has decided to make legislative amendments which will "strengthen" the mechanism for protecting courts from political pressure. With this aim Georgian Parliament Speaker Davit Bakradze held a meeting with the Chairman of the Georgian Supreme Court, Chairman of the Justice Council and some judges on August 5. Bakradze said an European standard legislative base should be created which will defend the Georgian court system from any kind of external interference.
Speaking to journalists after the meeting, the Parliament Chairman said that court system reform is one of the priorities of the Georgian Government. He said a number of steps can be taken to establish a "fully independent" and "objective" court system in the country. "External interference in the work of the courts by people taking high positions is one of the most serious and traditional problems in the Georgian court system," Bakradze stated. "Currently there is legislation in force which protects judges from external interference, but our main task is to draw up a new law which will be much more effective," he added. The Parliament Speaker said any attempts to interfere in judges' work will be strictly punished.
Bakradze did not specify the details of the draft law, however he said that one of the mechanisms would be the obligation of a judge to report any phone calls made with the aim of pressuring him. The Parliament Speaker said that after the draft law is prepared meetings with lawyers, NGO representatives, judges and international organisations will be held to hear their views about the project.
Chairman of the Supreme Court Kote Kublashvili said the legislation should be made stricter in respect of protecting judges from pressure. He said a "strong legislation base" is needed in order to achieve this. According to Kublashvili amendments should be applied to the Criminal Code as well as to the Law on Court Judges' Communication Rule. "The judges should feel themselves protected not only inside the courtroom but also outside it," the Supreme Court Chairman told journalists. Kublashvili stated that specific details of the amendments will be discussed in Parliament.
One of the main accusations of the opposition against the Government has been its "total control" of the courts. The Parliamentary and non-Parliamentary opposition have criticised the administration for failing to carry out reforms which would free the court system from pressure by the authorities. 'Radical' opposition leaders told
The Messenger
they will hold a special briefing on Bakradze's initiative, whilst declining to make further comments beforehand.