Daniel Fried meets Georgian authorities
By Mzia Kupunia
Friday, August 7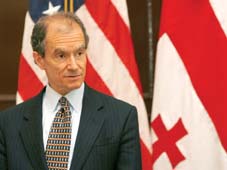 Special representative of the US Department of State Daniel Fried has held meetings with Georgian officials as part of his two day visit to Tbilisi. On Thursday he met Georgian Foreign Minister Grigol Vashadze. Fried said he had come to Georgia to meet "old friends" and to discuss some issues in Georgian-US relations.
Speaking to journalists after the behind closed doors meeting, Georgian Foreign Minister Grigol Vashadze said that due to US support for Georgia a repetition of the Russian military attack on Georgia was less probable. "The recent phone call between the US Vice President and Georgian President, the visits and letters, all these show that Georgia and the US have a strategic partnership, that we are the allies and the Georgian problem and the consequences of the Russian aggression remain on the top of the world agenda and Georgia has not lost its importance," the Minister said. "As a result of international, and first of all US, efforts Russia has realised that it will have to pay a high price for this, and it is a preventing factor. Russia has no political or realistic understanding of what will follow if it repeats its military aggression," he added.
Later the US envoy met the Chairman of the Georgian National Security Council Eka Tkeshelashvili. "We talked about the anniversary of the August war as well as all the issues which are the subject of tight cooperation between our countries. The US responded immediately to the first negative statement of Russian officials and made it clear that the US would not allow the negative development of events in the region," Tkeshelashvili noted. Fried made a brief comment, saying that the sides covered all issues of cooperation between the US and Georgia and talked about other "important" issues.
The US special representative left Georgia after the meetings on Thursday.