Fitch Ratings increases TBC Bank's rating
Friday, August 7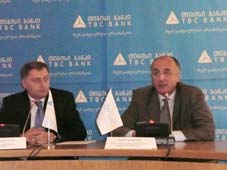 Fitch Ratings, a global credit rating agency, has improved TBC Bank's rating and assigned it to the B+ category. The rating agency has assessed six leading Georgian banks and TBC is the only one whose rating has improved.
The increase in TBC Bank's rating is an unprecedented and especially positive event since the difficult economic and political processes in Georgia during 2008-2009 have had a negative effect on the country's economy, including the banking sector.
Experts of Fitch Ratings claim that the growth of TBC Bank's rating, along with the stable and dynamic development of the bank, has been conditioned by a large scale investment in TBC Bank in the first half of 2009 as well as by changes in the shareholding structure. As a result of transactions the list of TBC Bank's shareholders was enhanced by large financial institutions such as the European Bank for Reconstruction and Development (EBRD), the Netherlands Development Finance Company (FMO), U.S. bank JP Morgan and the British Ashmore Investment Management Limited. The International Financial Corporation (IFC) and German Investments and Development Company (DEG) are also still shareholders of the bank.
Due to the mentioned international financial assistance TBC Bank's capital has increased by USD 40 million. Moreover the bank has received a subordinated loan of USD 44 million and a priority loan of USD 54 million. These transactions enabled the bank to strengthen its capital, increase liquidity parameters and reduce refinancing risks. The improvement of the mentioned financial parameters is reflected in the new B+ rating.
TBC Bank's Financial Results in July
In July 2009 the key financial parameters of TBC Bank dynamically improved. In particular:
Assets
– During last month the assets of TBC Bank increased by GEL 17 million and amounted to GEL 1.682 billion.
Capital
– As of July 31 TBC Bank's capital amounts to GEL 309.4 million. In comparison with last December's parameters, during the first seven months of 2009 bank capital increased by GEL 64 million.
Deposits
– In July the volume of deposits made by physical persons increased significantly, by GEL 39 million, to GEL 516 million. Since the August war this is the first case in which the volume of the bank's retail deposits has exceeded half a billion, meaning that despite the global financial crisis TBC Bank has stably maintained a leading position. Among the 10 leading banks of Georgia it possesses the greatest share, i.e. 30%, of the market. As for the portfolio of aggregate deposits (corporate deposits and personal deposits together), in July this parameter increased by GEL 42 million.
Loans
– Presently the aggregate loan portfolio of TBC Bank amounts to GEL 1.208 billion. Of this, GEL 424 million has been allocated as loans for private persons, while GEL 784 million has been allocated to companies.