A year since the war – the facts and the cost
By Etuna Tsotniashvili
Friday, August 7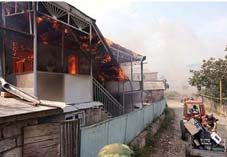 Just one year has passed since the disastrous war between Russia and Georgia. On the night of 7th of August Russian and Ossetian troops clashed with Georgians in the three-day Battle of Tskhinvali, the largest battle of the war. On August 9 Russian and breakaway Abkhazian forces opened a second front and attacked Upper Abkhazia's Kodori Gorge which was controlled by the Georgian Government. As a result of this Kodori remains under occupation even today.
After five days of heavy fighting, the Georgian forces were withdrawn from South Ossetia and Russian troops entered Georgia occupying the cities of Poti and Gori, among others, dropping cluster bombs there although these are banned by international agreement.
After the mediation of the EU and its Presidency country at that time France, the parties agreed to sign a six-point ceasefire agreement on August 12. President Sarkozy personally arranged negotiations between Saakashvili and Medvedev. The conflict stopped temporarily. However, so-called 'buffer zones' were then established around Abkhazia and South Ossetia and Russia erected checkpoints on the Georgian side of the administrative boundary with South Ossetia at Perevi and Akhalgori.
On 26 August 2008 Russia recognised the independence of South Ossetia and Abkhazia. Since then Russia has tried to persuade the rest of the world to do likewise, however only Nicaragua has done so.
What consequences did the Russian aggression have for Georgia? According to Georgian official statistics 224 civilians were killed, 15 lost and 547 injured. As for servicemen, 161 were killed, 9 lost and 947 injured. During the aggression 11 Ministry of Interior personnel were killed, 3 lost and 227 injured.
Georgia gained a huge number of new IDPs as a result of losing conflict zone villages. 127,000 IDPs were registered in the immediate aftermath of war, of which 100,000 have since returned to their homes but 27,000 have not yet been able to. The Government immediately began constructing dwelling houses for them in several villages.
3,963 houses have been built for IDPs (110,698,625 GEL spent), 1,500 IDPs were given flats in renovated buildings (19,923,754 GEL spent), 453 houses were purchased for IDPs (8,281,491 GEL spent), 9,342 houses and flats renovated in the so-called buffer zones (19,152,536 GEL spent) and 415 houses given in compensation for burnt ones (10,333,500 GEL spent).