Unite for Georgia, Saakashvili says in Gori a year on
By Etuna Tsotniashvili
Monday, August 10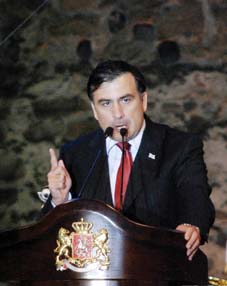 "Our strength is in knowing what we are fighting for – we struggle for a united, democratic Georgia," President of Georgia Mikheil Saakashvili declared late on August 7 in Gori.
President Saakashvili addressed the nation from the town which suffered most from the Russian aggression, stating that Georgian citizens should unite. "Today, as we commemorate our fallen compatriots, I want to call on each citizen to unite with the rest for a democratic and united Georgia," he said.
In his address Saakashvili recalled those soldiers who fell in the war, naming some of them, and talked about their heroism. Saakashvili also highlighted that some civilians have been killed by the occupiers simply because they were Georgian.
"Is this not a crime against humanity?" he said. "I ask the world today: what was that, other than an example of barbaric ethnic cleansing, which by words we all condemn, but very often we do not want to face the reality of it… Is ethnic cleansing allowed in 21st century Europe?" Saakashvili asked.
The President emphasized that Georgia wants to defeat its enemies only in a peaceful way, appealing to the world to help Georgia preserve peace in the country. "We want to defeat the invaders, but not through war of course – through building democracy and peace," Saakashvili said. "I call on the entire free world to help us preserve the peace," he added.
Saakashvili thanked Georgia's international friends and partners for their efforts and support for Georgia and its territorial integrity, adding that Georgia now has more chance of becoming either a NATO or EU member. "With the efforts of our Western friends our way towards the EU and NATO is more open than ever," Saakashvili said.
At the end of his speech the President called for unity and stated that "our future is being written with our own hands… Let's unite and defend Georgia's greatest treasure - our freedom."
Gori striking back
Gori, the town, most affected by the Russian aggression last August, has largely recovered and revived. The buildings which were burnt out by Russian bombs on August 8 have been fully restored or are in the process of being.
At exactly midnight on 7 August a huge 'bonfire of unity' was lit on Gori Castle, which could be seen in Tskhinvali and conflict zone villages. Other bonfires of unity were lit throughout Georgia at the same time, signifying that the Georgian people are standing together and will never allow enemies to occupy their country. According to representatives of the August 7 movement, the organiser of this event, the purpose of lighting the bonfires is to show the world that the danger of Georgia being invaded by Russia still exists and Georgia supports restoring the country`s territorial integrity by peaceful means.
"When an enemy entered Georgia, our ancestors would warn each other by lighting bonfires. Today we warn each other that we have an enemy - Russia - which is already on Georgian territory and it must leave our country," Irakli Kharchavanidze, a member of the 7 August Movement, said.
"Firstly, we remind ourselves of those who were tragically killed in the war last year and secondly we show the enemy our unity, that we are together and ready to defend our country to the end," Giorgi Maisuradze, a participant of the event, told The Messenger.
"Today my friends and I from Gori University have gathered in front of this bonfire with our university flags, remembering that on August 8 Russian planes bombed our university, which is in the centre of town and it is neither a military base nor a tank depot. Georgian youth and students from Gori University protest against the brutality Russia inflicted on our town," Maka Jolbordi, a student of Gori University, remarked.
Despite heavy rain none of planned events were cancelled. In the morning of August 8 about 480 schoolchildren formed a human flag on Gori Castle with the slogan that Georgia is united and consolidated under one flag. "We are standing here today to show our strength to the enemy and demonstrate that we will never be defeated," 12-year-old Nika Natsvlishvili said. Alongside the bonfire, two white balloons lit with candles were launched from Gori Castle towards Tskhinvali, in memory of the deceased soldiers.
The whole Georgia held a minute's silence at 3 p.m. on August 7 to commemorate those killed in the Russian aggression. Gori citizens gathered in the places where cluster bombs fell and a lot of people died a year ago and formed a human chain from Gori to the last village controlled by Georgia.
The most viewed among the several exhibitions organised in Gori for the day was the improvised Berlin Wall which was erected in front of the Stalin monument, which stands right in the centre of town. The 150-metre long wall was festooned with photos by photographers such as Alexander Klimchuk, who was killed near Tskhinvali last year. The exhibition, "Open Up the Iron Curtain", was inspired by the 20th anniversary of the fall of the Berlin Wall.