Russia wants to define conditions for military operations abroad
By Temuri Kiguradze
Tuesday, August 11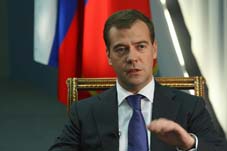 On August 10 Russian President Dmitry Medvedev proposed to members of the Russian Duma a new draft law which defines the conditions under which the Russian Army can conduct military operations outside Russian borders.
Medvedev said the draft law was being developed as a result of last year's August war in Georgia. "We seriously don't want these events to repeat, however we have to have clear regulations," stated Medvedev after a meeting with a group of Russian MPs in Sochi on August 10. Russian media reports that the proposed draft law authorises the Russian Army to enter another country to defend Russian soldiers both within and outside Russia. It is also authorised to "prevent or deflect the aggression of a state against another state" and defend Russian citizens abroad. Combating piracy can also be a reason for conducting military operations outside Russia's borders.
The official Kremlin position is that the Russian Army's invasion of Georgia in August 2008 was undertaken to defend its peacekeeping forces in South Ossetia and the population of this Georgian breakaway region, the majority of which has Russian citizenship. Georgia considers the August events to be a military aggression by Russia against Georgia. The breakaway regions of Abkhazia and South Ossetia are regarded as Russian-occupied Georgian territories by the Georgian Government.
Medvedev's proposition has already caused a strict reaction in Tbilisi. Georgian politicians consider that this draft, proposed right on the anniversary of the August war, further demonstrates Russia's aggressive policy and is an example of "playing on the nerves of the West." "This announcement once again underlines that Russia still lives in the nineteenth century and is developing its imperialistic ambitions," stated Davit Darchiashvili, who heads the European Integration Committee in the Georgian Parliament, as quoted by Georgian media on August 10.
Matthew Bryza, US Deputy Assistant Secretary of State for European and Eurasian Affairs, who is paying his last official visit to Georgia in that position before his appointment as the US Ambassador in Azerbaijan, has also commented on Medvedev's draft law. "No country has a right to interfere in the internal affairs of Georgia," stated Bryza on August 10, adding that the US supports the territorial integrity of Georgia.
"This kind of law already existed in Russia. Moscow considers that it has a right to perform military operations on the territory of another country and that was the case when it was threatening Georgia with an operation in Georgia's Pankisi Gorge," Georgian political expert Mamuka Areshidze told The Messenger on August 10. He noted that the announcing of another initiative of this kind on the anniversary of Russian-Georgian war shows "the will of Russia to prove [the correctness of] its positions to the world." "Of course this announcement is not only directed against Georgia, it's also meant to show the international community that Russia is not going to consider anyone's position when making its own decisions," concluded the expert.