Bryza says more reforms are needed
By Mzia Kupunia
Wednesday, August 12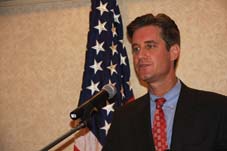 "It is time for serious people to conduct serious work on serious reforms," outgoing US Deputy Assistant Secretary of State Matthew Bryza told journalists in Tbilisi on Tuesday. Bryza, who was paying his last visit to Tbilisi as Deputy Assistant Secretary of State, held a special press conference at Tbilisi Marriott Hotel after meeting representatives of the Georgian Government and opposition.
Bryza called on the Georgian authorities and opposition to make more effort to develop democracy in the country. "As Vice President Biden said, it is crucial for the Government of Georgia, for the civil society of Georgia, for the opposition, for everyone to work harder to strengthen Georgia's democratic institutions," Bryza noted. "Life will be fully healthy here, as the Vice President described, once institutions like Parliament play a stronger role, once judicial reform has advanced, once electoral reforms are in place and once we see a stronger, more independent media. It is everyone's responsibility in Georgia to be working to strengthen democratic institutions in Georgia, whether they are members of the opposition or the Government," he added.
The US envoy commented on the political situation in Georgia, expressing his content that the political process has "shifted" from the streets to Parliament. "As Vice President Biden noted, it's a positive development that political discussions and action have shifted from the streets, where we saw that residents of Tbilisi have had enough of the disruption, back to discussions between some members of the opposition and the Government, back to Parliament and back to the reform agenda. And it is time for serious people to conduct serious work on serious reforms. So it seems like it's beginning to happen now," he said.
Bryza welcomed the participation of some opposition members in the National Security Council as well as reports of Alliance for Georgia leader Irakli Alasania's readiness to meet the Interior Minister Vano Merabishvili. "One of the most important issues they will discuss is the reports of violence, which we anticipate must end, and we hope that this meeting will come up with ways to address these reports and lead to a decrease and ending of these reports of violence," the US official stated.
Bryza defused the allegations of Georgian opposition politicians and experts that the US supports particular persons in Georgia. "I found it simply ridiculous to read and hear some of the things some of my colleagues on the more radical side of Georgia's opposition were saying about me supposedly supporting only one person in this country. These people know better than that," the US diplomat said. "We support everyone in this country, everyone who shares our values, who shares our strategic interests, and with whom we've been working for 12 years to develop a democratic system. So let me be clear in my final sentence – the United States, and myself as a US official, supports Georgia, supports all the Georgian people, supports the development of political and economic freedom here, which sets Georgia apart, and we feel close to a wide range of Georgians from every political grouping, from every Ministry, from all of civil society and all political parties. I don't know how I can be clearer than that," Bryza added.
The US Deputy Assistant Secretary of State said the USA will train Georgian troops to be deployed in Afghanistan. "We will indeed provide training and assistance for these Georgian soldiers, who will be putting their lives on the line in pursuit of our shared strategic interests and our common values," Bryza stated. "Anybody who is rational will be pleased that the United States is helping Georgia to develop its professional force, except for the Taleban and other targets that will be fighting against these Georgian forces in Afghanistan," he said. He added that the US is not planning to provide a large number of new weapons. "We are training and then providing equipment the Georgian forces will need on the ground in Afghanistan. And ultimately Russia shares our interest on defeating terrorism in Afghanistan," Bryza stated.
Bryza said Russia has not met all its commitments under the August 12 agreement, adding that the USA will continue to raise this issue during discussions with Russia. "As you have heard again very clearly from Vice President Biden, echoing the words of President Obama, restarting US-Russian relations will not come at the expense of Georgian-US relations," he clarified.