MPs take to the road to hear the people
By Londa Mindiashvili
Monday, August 17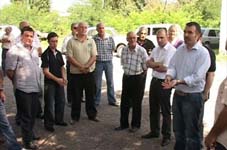 Members of the Parliamentary majority visited Mestia in Svaneti on August 16 as part of the Government's Public Dialogue programme. Leader of the Parliamentary majority Petre Tsiskarishvili and MP Eldar Kvernadze met the local population and listened to their problems.
The main problems mentioned by locals were unemployment and damaged schools, kindergartens and roads. Mestians also asked the MPs to restore the traditional Svaneti towers which are a symbol of the district. Another significant problem for local residents is not having a licence to cut timber, as this is the main source of income in Svaneti. The MPs promised they would help resolve the various social problems in the district.
Petre Tsiskarishvili visited new accommodation units and hotls currently being built in the district. He remarked that the main purpose of coming to Svaneti was to check on the progress of projects such as this one, planned by the President. "The locals have introduced us to many interesting, and at the same time very urgent, problems which should be resolved. We will all do our best to help them and the [Presidential] projects will be fulfilled in a short period of time," added Tsiskarishvili.
Minister of Environmental Protection and Natural Resources Goga Khachidze met the population of Kutaisi, in the Imereti Region yesterday. Mikheil Chogovadze, Governor of the district, also attended this meeting which as in Mestia was about the problems of the region. The citizens were given the promise that the Government would do everything it could to resolve their problems.
After the meeting Khachidze and Chogovadze visited an environmental protection project on the River Rioni which has just been completed. GEL 5,000,000 was allocated from the budget for this project, which has changed the course of the river so it is no longer a threat to those living near its banks. Khachidze and Chogovadze stated that this project had become essential after the river rose and flooded three hectares of the Botanical Gardens in Imereti last year. "The first stage of the work has been completed on the right side of the river and now we are planning to do the same on the left side," stated Chogovadze.
The Public Dialogue was launched following a recommendation from the President during his address to Parliament. Saakashvili urged Ministers, MPs and local officials to spend August meeting people in different regions. Two days after the President had made this statement a special meeting was held at which a concrete plan was worked out. MPs and other representatives of the Government are visiting every region under the terms of this plan.