17th anniversary of Abkhazian conflict marked
By Mzia Kupunia
Monday, August 17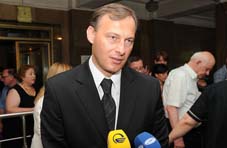 Both Georgia and its breakaway region of Abkhazia have commemorated the 17th anniversary of the Abkhazian War breaking out. The conflict, which broke out in 1992 and lasted for 13 months and 13 days, left more than 10,000 Georgian soldiers and civilians dead and 300,000 ethnic Georgians homeless. About 2,700 ethnic Abkhaz died during the conflict, according to data released by the de facto authorities.
The military actions ended with the fall of the main city of Abkhazian Autonomous Republic, Sokhumi, on September 27, 1993. Tensions over the region have reheated since August 2008, when after the Russian-Georgian conflict in South Ossetia Russia recognised both breakaway regions as 'independent states'.
IDPs from Abkhazia released 17 white pigeons as a sign of peace and the "17 years of living away from home" at Enguri Bridge at the administrative border between Georgia and the de facto Republic on Friday and the Chairman of Tbilisi-backed Abkhazian Government-in-Exile, Giorgi Baramia, greeted ethnic Abkhazians in the Abkhazian language and also called on them to restore "lost trust". Speaking to the people gathered at Enguri Bridge, Baramia said it was time for reconciliation. "Today as never before, there is a need for consolidation and mutual effort. Dear compatriots, I call on you to hold bilateral dialogue. We should not destroy the bridges which unite our nations," Baramia noted.
Baramia said that the Abkhazian nation, which while part of Georgia had maintained its "face, autonomy, language, culture and national independence," is now under threat. "Today there is one question: what will happen to the Abkhazian people as part of the Russian Federation? It is obvious that the Russian Government's main aim is to grab the unique treasures of Abkhazian nature, not care about the Abkhaz people," Baramia stated, adding that Russia has made Abkhazia a subject of "international speculations."
Soon after the legitimate Abkhazian Government Chairman's call for reconciliation, Georgian TV channels reported that s resident of Gudauta Tamaz Lakerbaia crossed the administrative border and requested Georgian citizenship. "I crossed Enguri Bridge as a sign of protest," he told journalists. Lakerbaia said he had left his family in Abkhazia and claimed that he and his relatives live in an "unbearable conditions" in Abkhazia. "The locals there have no jobs, and the President is selling everything to the Russians. I was forced to come here and ask for Georgian citizenship," Lakerbaia said.
Georgian Ministers also commemorated the anniversary of the Abkhazian war. Speaking at a Georgian Government session Minister for Reintegration Temur Iakobashvili said that not only Georgians but also ethnic Abkhaz and people of other nationalities living on Abkhazian territory were victims of the war. He said the war was started and fought by Russia. "We can see that this is part of a policy. We can see what methods Russia is using to disintegrate Georgia. I think that no matter how hard Russia tries to annex this territory it will not achieve its goal, because barbaric methods only work as tactics and I don't think they will bring any good [to Russia] in respect of strategy," he noted, adding that Georgia will become united with the Abkhazian and Ossetian people as part of it.
The de facto Abkhazian Government also commemorated what it calls the 'Motherland Defenders' Memorial Day' with a minute's silence. The Apsnypress news agency reports that cars stopped moving in the "whole republic" at 11.00 Moscow time. The separatist authorities, including de facto President Sergey Baghapsh, visited the Memorial of Fame in Sokhumi on August 14 and adorned it with flowers. The agency said that "volunteers" from the North Caucasus and South Russia, representatives of the Abkhazian Diaspora and other foreigners had fought for the "independence of Abkhazia" in 1992-1993.
Georgian officials said on Sunday that the Abkhazian separatists had started strengthening the so-called "border" with wires. The Georgian media reported that special groups are also mining all the bridges over the Enguri River.