Georgian Football Federation to sue Russia over Tskhinvali team
By Messenger Staff
Wednesday, August 19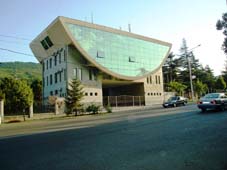 The Georgian Football Federation intends to sue the Russian Football Federation for allowing breakaway South Ossetian football team Spartak to take part in the Eastern Division of the Russian Championship. According to Federation officials it has not yet certain that Spartak really will take part in the Russian Championship but the inclusion of the separatist football team could cause a scandal which might result in Russia's exclusion from FIFA and UEFA.
GFF officials say the RFF has registered the Tskhinvali Spartak FC as a member of the Eastern League of the Russian Championship, thus violating the regulations of international organisations. Russia has no right to include the team in any of its competitions because it plays in the Georgian Championship. Spartak would play in the Russian Championship illegally because the 'independence' of South Ossetia has not been recognised internationally, GFF officials say.
Minister of Culture, Sport and Monument Protection Nika Rurua says that if Russia does include the South Ossetian team in its championship UEFA and FIFA sanctions will be inevitable. If Russia does not change its mind Georgia will file a court action against Russia, as under UEFA legislation a country does not have the right to include teams from non-recognised states in its domestic competitions or allow its member clubs to play against them.
Ucha Ugulava, Vice President of the Georgian Football Federation, says "We are going to address UEFA and FIFA and I hope those organisations will take appropriate decisions. They should not allow Tskhinvali Spartak to participate. Neither FIFA nor UEFA plan to recognise the 'independence' of South Ossetia, so this team does not have the right to take part even in the Russian Third Division."
The Russian Football Federation has made no comment on this issue so far.