Rumours spread about new opposition faction in Parliament
By Mzia Kupunia
Thursday, August 20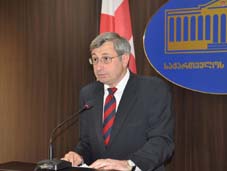 There might be some changes in the makeup of the Parliamentary opposition, Georgian media outlets reported on Wednesday. Rezonansi published an article entitled 'Parliamentary Minority Planning to Replace Tortladze.' The newspaper reported that, based on information from an anonymous source in the Georgian Parliament, "active work" is being carried out to dismiss Gia Tortladze, Chairman of the Strong Georgia faction. Rezonansi said that Dimitri Lortkipanidze, a member of the same faction and a former candidate for Public Defender is a possible replacement. According to Rezonansi, the reason for the alleged attempts to replace Tortladze is the Parliamentary minority's discontent about Tortladze's loyalty to President Saakashvili. "The opposition considers that Tortladze's actions are discrediting the whole opposition," the newspaper writes.
Rezonansi
also reported that a new Parliamentary opposition faction, supporting Irakli Alasania the leader of the Alliance for Georgia, may be created. There are currently two opposition factions in Parliament – Strong Georgia and the Christian Democrats. A faction must contain at least 6 MPs.
Rezonansi
wrote that Gia Tsagareishvili and Karlo Kopaliani, MPs who quit the Strong Georgia faction as a sign of protest during the April 9 rallies, might establish this new group with Paata Davitaia, Dimitri Lortkipanidze, Petre Mamradze and Guram Chakhvadze. Another Georgian newspaper,
Akhali Taoba
, reported that Tortladze's faction "might fall apart" as "a couple of members are planning to quit it," however, the identities of these were not revealed.
Akhali Taoba
also reported that the new opposition faction might be set up and named Gia Tsagareishvili, Karlo Kopaliani, Petre Mamradze and "three other MPs" as its possible members.
Gia Tortladze did not confirm these reports. Tortladze told journalists that none of the members of his party are planning to leave it. "I do not know what these newspapers are writing about. I know my own faction very well, a not a single MP is planning to leave it," he stated on August 19. One of the members of Strong Georgia, Dimitri Lortkipanidze, has also denied the media reports. "Nobody has the right to interfere in the work of the faction," Lortkipanidze said.
Petre Mamradze, who currently represents the Fair Georgia Party, said he knew nothing about the matters being reported. "This is the first I have heard that any new faction is being planned. I attended the last session of Parliament and nothing was said about it. Even in lobby conversations nobody has said anything so far," Mamradze told
The Messenger
. He also said he had heard nothing about Tortladze's possible resignation or removal.