Pay for your parking or pay a fine
By Etuna Tsotniashvili
Friday, August 21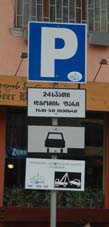 The CT Park Company, which controls parking in Tbilisi, has toughened the penalties it imposes. The company will fine drivers who do not obey the parking rules.
According to CT Park Deputy Operations Manager Irakli Jibladze drivers will be fined in three instances – if they don't pay their parking fees, if they park their car at the wrong angle and if they park outside a parking zone. Jibladze says that if a driver doesn't pay for 1 to 3 hours parking, they will be fined GEL 20. The fine rises to GEL 40 for not paying for 3 to 6 hours parking, and a car parked for more than 9 hours without payment will be towed away to a special area.
"From today drivers will have to pay by the hour by the three methods we allow (by mobile phone, scratch card and parking meter - to see how those systems work, visit the CT park web page www.ct-park.ge). Drivers should pay attention to the parking signs to understand what kind of parking systems there are, how much money they should pay etc. They will also understand what kind of sanctions they face in the event of violations of the rules," Jibladze stated yesterday.
CT Park rules state that parking is allowed in zones indicated by white lines on the pavement where a sign is installed indicating the precise fee to be paid for parking in that particular zone. Hourly parking fees are: 0.20 GEL; 0.50 GEL; 1 GEL according to the district and zone. However citizens who have resident permits are allowed to park for free in the streets in their stated residential area. When parking the driver will notice that the appropriate parking position in that zone, whether it be parallel parking, perpendicular parking or parking at a 45 degree angle, is indicated on the asphalt and the parking sign.
CT Park has created organised parking spaces near central streets and main thoroughfares in order to ease traffic problems in the city centre, on the instruction of Tbilisi Municipality. It gained the exclusive right to manage parking in Tbilisi by winning an auction organised by the Municipality in November, 2007, which was held due to the increasing need to resolve traffic problems in the capital.