Opposition say some of their supporters will be released
By Mzia Kupunia
Friday, August 21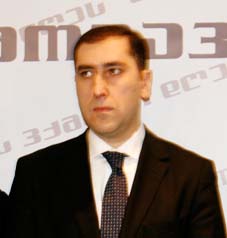 About 10 opposition activists detained during the four-month long series of rallies are about to be freed, "radical" opposition leaders reported late on Wednesday, assessing this as a "positive move". According to Civil.ge the detainees would be released from pretrial detention but the charges against them will not be dropped until their cases are considered by the courts.
The Interior Ministry of Georgia agreed to review what the opposition claim are "politically-motivated" detentions on August 12, at the meeting between some Parliamentary and non-Parliamentary opposition leaders and law enforcement Ministers at the Interior Ministry. A special 24-hour hotline has also been established on which the opposition representatives can contact the Interior Ministry to report any case of "pressure" on opposition activists.
Republican Party leader David Usupashvili has told
The Messenger
that the party submitted a list of 9 "political prisoners" to the Ministry of Internal Affairs. Usupashvili said that 2 of the detainees, charged with illegal possession and carrying of arms and illegal possession of drugs, had been released on bail, but the charges had not been dropped. "All of these 9 people are innocent victims of political repression," he said. "Releasing two of them on bail is just a small human step from the authorities," he added.
Other opposition members are making more positive comments. Zurab Abashidze, the General Secretary of Our Georgia-Free Democrats, said the process of talking to the authorities had been "successful". "There are important moves being made in this direction, however releasing people from jails is a complicated process and it will not happen in a day. As we decided to get involved in this process, we will follow it through to the end," Abashidze told journalists. Abashidze said there might be another meeting with law enforcement Ministers. "We are waiting for a response from the Government [on this question]," he noted. The Interior Ministry declined to comment on the matter.
Meanwhile, one of the most outspoken "radical" opposition leaders, Eka Beselia of the Movement for United Georgia, has claimed the authorities have detained her brother and son, linking the detention to "political revenge". Beselia's son Rati Milorava, her brother Sergo Beselia and two others have been detained in Kobuleti, a holiday resort in the Adjara region, accused of hooliganism and assaulting police officers in one of the cafes late on Wednesday. Beselia has said the detention has no legal grounds, as her relatives did not assault anyone. "This is the revenge of the Interior Ministry on a political opponent. I am not negotiating with them on any issue – including the issue of political prisoners. I won't meet Merabishvili and that's why they have taken revenge on me. I am ready to resist this pressure," Beselia stated on Thursday.
The Interior Ministry has denied Beselia's allegations. MIA spokesman Shota Utiashvili said "political revenge" had nothing to do with this case. "Beselia's son and brother, with their friends, came up to a family sitting in the cafe, assaulted the wife verbally and the husband physically, and the police detained them," Utiashvili told
The Messenger
, adding that Beselia's son had been detained previously for hooliganism.