Georgia may receive Guantanamo prisoners – Washington Post
By Temuri Kiguradze
Monday, August 24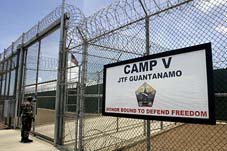 Georgia may be chosen as the location for the prisoners who are to be transferred from the Guantanamo Bay detention camp,
The Washington Post
reported on August 20. According to that newspaper Georgia is one of the countries conducting negotiations with the American Government about the transfer of the Guantanamo detainees, who are mostly accused of conducting terrorism. The prison is about to close in the near future.
The Obama administration has held "positive talks with Australia and Georgia" on the issue writes
The Washington Post
, which also notes that six European Union countries - Britain, France, Ireland, Italy, Portugal and Spain - have already announced their readiness to receive the detainees. "Obama has a lot of political capital. Countries want to do something for him, and that allows us to say, 'This is it, this is what we want you to do," stated a "senior administration official" quoted by the newspaper.
"President Obama has promised to close Guantanamo Bay by January. To meet that goal, the administration has appointed Daniel Fried, a long time diplomat with deep ties in Eastern Europe and parts of the former Soviet Union, to lead negotiations with other countries. Fried was recently in Georgia, where officials expressed willingness to help. Indeed, a senior Georgian official joked in an interview that his country, which just marked the first anniversary of a war with Russia, would accept every Guantanamo detainee if the deal came with the establishment of a U.S. military base in Georgia, "says
The Washington Post
.
The Georgian Government has not yet commented on this report. "The strategic partnership between the US and Georgia puts a lot of responsibilities on Georgia," said Irakli Sesiashvili, a Georgian expert on security issues. He added that "the situation in Georgia is quite far from ideal and if this kind of camp is established it may become even more difficult. A country which has a camp like this becomes a target of terrorism," he concluded, as quoted by Georgian media on August 23. "It is clear that Obama wants to close the Guantanamo prison and is looking for a location to transfer the detainees to, however the details of Georgia's part in this process should be revealed by the [Georgian] Government, and only after this can we start talking about the reasons and motives behind that decision," Georgian conflict expert Giorgi Khutsishvili told
The Messenger
on Sunday.
The Guantanamo Bay Detention Camp is a detainment facility at the Guantanamo military base in Cuba run by the United States. The camp was established during the George W. Bush administration in 2002 to detain persons suspected of conducting terrorism. Guantanamo was the subject of several scandals in which the US Government was accused of keeping the detainees in inhuman conditions. In January 2009 US President Barack Obama signed an order to suspend the operation of the Guantanamo military base for 120 days and promised that the camp would be shut down within the year.