Ambassador to Spain might become new Economy Minister
By Mzia Kupunia
Wednesday, August 26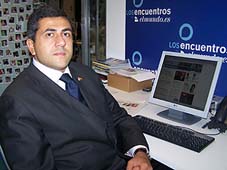 Georgia's ambassador to Spain, Zurab Pololikashvili is rumored to be named the new Minister of Economic Development, Georgian media reported. It was expected that Prime Minister Nika Gilauri would present the candidate for the Minister's position early on Tuesday, however the nomination was delayed. No reasons for the delay have been given so far. Prime Minister Gilauri dismissed Minister of Economy Lasha Zhvania last week, claiming that he was "dissatisfied" with Zhvania's work.
The possible candidate Pololikashvili, who has worked in high managerial positions in TBC Bank, has made no comments for the media so far. Economic analysts also refrain from making comments and assessing his candidacy. The analysts say they do not know Pololikashvili's professional activities well enough to draw conclusions on how effective he might be as a Minister of Economy.
Senior fellow of the Georgian Foundation for Strategic and International Studies, former MP Lado Papava told The Messenger he met Pololikashvili once, when he had a "minor problem" to solve at TBC Bank. "He was very attentive and helpful," Papava noted, however the analyst said it would be hard to evaluate Pololikashvili's professional skills at this stage.
An economic analyst Gia Khukhashvili also refrained from commenting on the government's possible nominee. "I have heard his name for the first time and it will be hard for me to assess how he will operate," Khukhashvili told
The Messenger
"however, in my opinion appointing Pololikashvili as a Minister will not change anything in the country's economy, because the economy here does not depend on personalities. First of all the system should be changed. Unless the system changes, there will be no changes in the economy of Georgia," he added
Some analysts have claimed the Georgian government is not "attentive enough" while choosing the Ministers of Economy. Lado Papava noted the only Ministers chosen "carefully" are the Ministers of Internal Affairs Vano Merabishvili and the Minister of Justice Zurab Adeishvili. "All others, including the Prime Minister himself, are chosen "inattentively," Papava claimed.
As for the former Minister of Economic Development Lasha Zhvania, he said he was offered the post of Georgia's Ambassador to India, however, Zhvania said he has refused the proposal. "On May 21about 20 minutes prior to my briefing for the media, Grigol Vashadze (Foreign Minister) spoke with me and offered the position of Ambassador to India, however I refused it. I am not going to return to diplomatic activities," Zhvania, who has previously been an ambassador to Israel, said. The former Economy Minister also commented on the possible candidate for his former post nominated by the Prime Minister saying that Pololikashvili is a "positive" person.