Russia is continuing its occupation of Georgia – Tbilisi
By Temuri Kiguradze
Thursday, August 27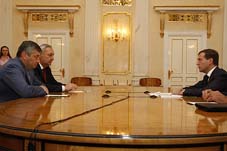 On the anniversary of the recognition of Georgian breakaway regions of Abkhazia and South Ossetia, Russia continues to occupy Georgian territories, Georgian officials stated on August 26.
"The Russian Federation, following its military aggression against Georgia, its occupation of inalienable parts of Georgian territory and ethnic cleansing, is still pursuing its policy of deliberate annexation of the occupied regions. The Russian side's plans are aimed at concealing the consequences of the ecological damage caused by barbaric acts under cover of inadequate projects," stated Georgian Foreign Ministry officials referring to the exploitation of Abkhazian natural resources in preparation for the 2014 Olympic Games in Sochi.
"In recognizing the independence of Abkhazia and South Ossetia, Russia has taken an irreversible step and has exposed itself not only to Georgia but to the whole international community," stated Georgian MP, head of Parliament Eurointegration Committee David Darchiashvili while speaking to the Georgian media on August 26. Darchiashvili also noted that after the recognition, Russia has spoiled its relations with all major international organizations.
Meanwhile Russian President Dmitry Medvedev announced that the decision to recognize the Georgian breakaway regions was "unavoidable." "I don't regret this decision. I consider it to be legal from the point of view of international laws, just and absolutely necessary. That's why this decision is irreversible for our country," stated Medvedev on August 26. He also added that the issue of international recognition of Abkhazia and South Ossetia is a "secondary question" for Kremlin. "Of course these states [Abkhazia and South Ossetia] are interested in recognition by other countries and the international community, however not all processes in the world pass fast," underlined Russian leader.
Georgian separatist territories celebrated the day of Russian recognition in their de facto capitals of Tskhinvali and Sokhumi, However, the celebrations in South Ossetia were spoiled by a terrorist act – the explosion of a handmade bomb on one of the streets of Tskhinvali. According to the separatist media the power of the explosive was equivalent for 400 grams TNT, and no injuries were reported in the incident.
South Ossetia de facto leader Eduard Kokoity was unable to attend the celebrations in South Ossetia as he was paying a visit to Russian Prime Minister Vladimir Putin, as reported by Russian media. Representatives of South Ossetia's political opposition suggested that the Russian Prime Minister will sack Kokoity, taking into consideration the amount of Russian money "lost" in this breakaway region. The official purpose of the Kokoity-Putin meeting was the signing of agreements for "social-economical" cooperation between Russian and separatist South Ossetia. However, speaking to the Russian media Albert Jussoev, one of the leaders of the South Ossetian opposition stated that "Putin has advised Kokoity to take a vacation for several months."
The Tbilisi backed South Ossetian temporary administration states that even though one year has passed since Russia's recognition of South Ossetia's and Abkhazia's "independence" Russia uses these regions as "military strongholds defending its own [Russia's] interests."
"I want to underline that ethnic cleansing continues. There is no independence, there is only construction of military bases and illegal purchase of strategic objects by Russia," stated Georgian MP Paata Davitaia, speaking on the special briefing in Tbilisi on August 26.
"We should agree on one thing, when occupying troops of one country are deployed on a territory, this territory can't speak about its independence," stated Georgian political analyst Mamuka Areshidze commenting on the situation in Abkhazia and South Ossetia for The Messenger on August 26. He noted that the situation in the two Georgian regions are different, in South Ossetia, because of extremely hard economic problems there is strong support for Russia's presence in the region, in Abkhazia there are more people who understand that ethnic Abkhazians are losing their power in the government of Abkhazia. "However, it's harder for Abkhazian's to begin to struggle for real independence as they already are in minority compared to the Armenian and Georgian population. And there is a very large contingent of Russian troops there – this factor should also be considered," concluded the analyst.