New Defence Minister criticised
By Mzia Kupunia
Monday, August 31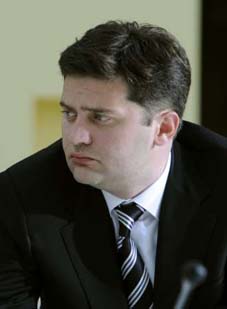 Appointing 28-year-old Bacho Akhalaia as Minister of Defence has prompted mounting criticism from the Georgian opposition, analysts and human rights defenders. "One of the most dangerous decisions" and an "irresponsible action" by President Saakashvili is how the opposition describe the appointment. Some, including the outgoing Public Defender Sozar Subari, claim that the Government is trying to keep the Georgian Army "obedient" to itself. "The appointment of Akhalaia indicates that the Army might be used for political purposes and against the opposition," the Ombudsman has said.
Military analysts have said that Akhalaia, who has served as a Deputy Defence Minister since December 2008, has "not enough" knowledge and experience in the security and defence fields to run the Ministry. Irakli Sesiashvili, an independent analyst, has said the President's approach to the Army is "not serious". "The number one problem of this country is its defence and security. Akhalaia is someone who does not know anything about defence or security systems." Military analyst Kakha Katsitadze has also slammed the appointment, saying that Akhalaia "has no idea" about the military sphere. "It is very hard to see a rational point in President's decision. David Sikharulidze (the previous Defence Minister) had much more knowledge and experience in this field, however he was not given a chance to do anything," Katsitadze said, adding that it is "difficult prognosticate" what Akhalaia will do as a Minister of Defence.
The opposition have said that the appointment means "saying no" to Georgia's NATO integration. According to a special statement released by the Republican Party on Friday, "The system of values, professional habits and management style displayed by Akhalaia while serving in different senior positions gives us the ground to state this." Akhalaia, who is said to be a close ally of President Saakashvili and Interior Minister Vano Merabishvili, served as Deputy Public Defender in 2004-2005. However he became the target of severe criticism whilst serving as Head of the Penitentiary Department of the Ministry of Justice in 2005-2008. Human right groups slammed him for "cruel and inhuman actions" against inmates, claiming that Akhalaia used to personally "beat them up". A prison riot, allegedly staged by "prison crime bosses", became yet another reason for the human rights defenders to criticise Akhalaia. He was accused of using excessive force during a crackdown on inmates in which 7 prisoners died.
Not everyone shares the opinion of the opposition and Ombudsman. President Saakashvili hailed Akhakaia, saying that he had gained "a lot of enemies" while fighting against so-called "thieves-in-law" in Georgia. "He ensured that the thieves-in-law do not run the prisons in Georgia. This is a huge achievement and this person managed this," the President said, while presenting Akhalaia as the new Defence Minister on Friday. "In a short period of time he managed do a lot in creating the fortification line of Tbilisi and monitoring the efficiency of Georgia's armed forces," Saakashvili stated, referring to his activities as a Deputy Defence Minister. The President said there was the need for a "stricter hand" in Georgia's defence system. "Much more needs to be done in this respect," he said. Analyst Nika Chitadze has told The Messenger that the criticism of the new Defence Minister is "a bit exaggerated", however he added that "considering the current situation in the country," it would be more appropriate to appoint someone with more knowledge and experience in the defence and security field. He said that the same applied when former Economy Minister Lasha Zhvania was appointed, as Zhvania had no proper knowledge of economics and made mistakes which eventually led to his firing.
Speaking to journalists after his appointment Akhalaia said that being Defence Minister was a "great responsibility". He briefly outlined his priorities, saying that enhancing Georgia's defence potential, which he said should help to "maintain peace" in the country, is one of them. "As for NATO integration, there is no alternative to this. We are planning to continue our current policy in this direction, in order to offer the Alliance armed forces which would be a serious benefit for this organisation and not a burden," the Defence Minister said.
Akhalaia is not the only member of his family in a senior Government position. His brother Data is the head of the Department for Constitutional Security, while his father Roland is the Chief Prosecutor of Samegrelo-Zemo Svaneti.