BlackBerry Solutions launched in Georgia
By Messenger Staff
Wednesday, September 2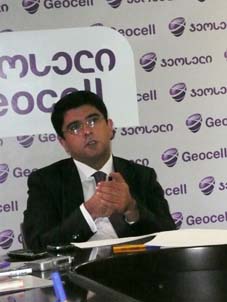 Geocell, Emitac Mobile Solutions and Research in Motion announced the launch of the BlackBerry Solutions in Georgia on September 1. According to the company representatives the BlackBerry, which combines a smartphone, software and services to enable easy access to email, a phone calendar, the web, multimedia and other services, will enable Geocell's customers to enjoy "freedom and productivity benefits" by using BlackBerry smartphones to stay connected with people and information on the go.
Geocell Director General Osman Turan said that BlackBerry Solutions will deliver innovative mobile applications and communication channels, providing ease of use, access to information and greater connectivity to customers in Georgia. In its press release Geocell quoted the CEO of Emitac and the Vice President of RIM, hailing the services provided by BlackBerry Solutions in Georgia. "We are very pleased to be part of Geocell's journey in deploying the BlackBerry and bringing its benefits to its customers. We will continue to support Geocell in delivering and implementing the latest products and services to stay at the forefront of technology," the CEO of Emitac Mobile Solution Babar Khan said.
"It is with great pleasure that RIM is working with Geocell and EMS to introduce the BlackBerry in Georgia. BlackBerry smartphones are the right choice for people who want to stay connected to colleagues, friends and family while on the move," Mark Guibert, Vice President of Corporate Marketing at Research In Motion stated.
Geocell is offering the BlackBerry Enterprise Server for corporate customers and BlackBerry Internet Service for smaller businesses and individual users.