Abkhazia threatens to sink Georgian boats
By Temuri Kiguradze
Thursday, September 3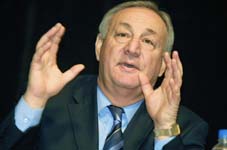 De facto President of the Georgian breakaway region of Abkhazia Sergey Baghapsh gave his troops the order to "sink Georgian boats" seen near the Abkhazian coast on September 2.
Baghapsh said that this order was being given in response to "acts of piracy" by the Georgian coast guard. The breakaway region is protesting against Georgian law enforcers detaining vessels en route to Abkhazia and impounding their cargo under the terms of the Georgian law on the occupied territories which restricts the movement of ships in Abkhazian waters and forbids any economic activity in the region without permission from Tbilisi.
Earlier the Russian border guards had announced that Abkhazian vessels will be protected by Russian special security vessels, but in his statement on September 2 Sergey Baghapsh noted that these will not participate in the detention of Georgian border guards. "I want to underline that we are referring only to the Abkhazian Navy taking this action," stated Baghapsh. The head of the so-called Abkhazian Border Guard Special Service Zurab Margania has confirmed that it has received Baghapsh's order and is sure that Abkhazian naval forces will be able to confront the Georgian coast guard. "Our [Abkhazian] fleet dominated the sea during the Georgian-Abkhazian war of 1991-1992. Since then the abilities of our navy have increased significantly," stated Margania, as quoted by the Russian
Interfax
news agency on Wednesday.
The Georgian side however doesn't consider Baghapsh's statement serious. Georgian State Minister on Reintegration Issues Temur Iakobashvili called it a "pre-election bluff." "They [Abkhazian separatist authorities] have no technical means to destroy the ships. The only party that has such a capacity is Russia, which has already made a statement on this issue and received a corresponding response from the international community," Iakobashvili told the Georgian media on September 2. He added that Georgia is applying its laws by detaining vessels en route to Abkhazia and will continue to do so.
The Georgian Foreign Ministry refused to comment on Baghapsh's statement, calling him a "criminal". "It is not up to the Foreign Ministry to comment on criminals. The General Prosecutor's Office, Interior Ministry and Ministry of Justice will comment on Baghapsh's statements, because a criminal should be sitting in jail and he definitely will be in a Georgian jail one day," Georgian Foreign Minister Grigol Vashadze told journalists before a Government session on September 2. On Monday the Georgian Foreign Ministry had published a statement responding to Russia's announcement about the "protection of Abkhazian waters." It referred to the international conventions and noted that if Russia hindered Georgian law enforcement bodies from detaining vessels that are violating Georgian laws "Georgia will be authorised to take measures in a zone contiguous to its territorial waters in order to prevent and punish infringement by Russia of its customs, fiscal, immigration or sanitary laws and regulations within its territorial waters."
"I hope the situation in Black Sea will remain a battle of rhetoric and the latest aggravation of the situation will not lead to new military confrontation, however this can't be excluded in this case," Georgian political analyst and former Ambassador to Russia Zurab Abashidze told The Messenger on Wednesday. "There are some laws and conventions that Georgia should uphold, however there should also be definitive pragmatism from the Georgian side to prevent events getting out of control," states Abashidze, adding that "it's clear to everyone who is behind Sergey Baghapsh's statement." "As far as I know Abkhazia has no warships or submarines with which to fulfil Baghapsh's order, however if Russia has already equipped Abkhazia that's a different situation," concluded the analyst.
Georgia has already detained a total of four cargo ships going to or coming from Abkhazia. One of the latest incidents involved the Turkish cargo vessel Buket, whose captain has been sentenced to a 24-year prison term according to the Georgian Border Police. The vessel was transporting 2,000 tonnes of petrol and 700 tones of diesel from Turkey to the Abkhaz capital Sokhumi. The Georgian Border Police also said on August 31 that the vessel and its cargo "had been confiscated by a court decision."