Georgia and Turkey reach agreement on Turkish captain
By Mzia Kupunia
Tuesday, September 5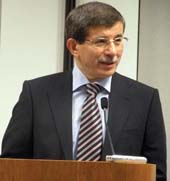 Georgia and Turkey have found a "satisfactory for both sides" solution to the problem of an imprisoned Turkish sea captain. Mehmet Joshkun Ozturk had been sentenced to 24 years in prison by a Georgian court for "smuggling" 1,000 tonnes of petrol and 700 tonnes of diesel from Turkey to Georgia's breakaway region of Abkhazia last month. The Georgian and Turkish Foreign Ministers announced they had resolved this problem on Monday but refrained from giving further details of what this "solution" was, saying that a final decision will be announced after Turkish Foreign Minister Ahmet Davutoglu, who is paying a two-day visit to Georgia, meets Georgian President Mikheil Saakashvili on Tuesday.
"We had a very useful conversation and we will also discuss this matter when I meet President Saakashvili," Minister Davutoglu stated at a joint press conference at the Georgian Ministry of Foreign Affairs on September 7. "Turkey and Georgia are strategic partners and allies and we should prevent the repetition of such events," he added.
Georgian Foreign Minister Grigol Vashadze said Georgia is not going to accept violations of its Constitution and international norms. He said all ships conducting illegal commercial relations with the Georgian breakaway regions occupied by Russia will have to "answer for this". "We are not going to suffocate people with a blockade, but there is a law concerning the occupied territories. All ships who wish to can enter Georgia, obtain registration in accordance with all the rules defined by Georgian law and then conduct their commercial activities," Vashadze noted.
The Turkish Foreign Minister stated at the joint press conference after the meeting with his Georgian counterpart that Turkey supports Georgia's sovereignty and territorial integrity. "Georgia's territorial integrity and development are very important for Turkey," Davutoglu said. "We have supported Georgia's territorial integrity since the day it declared its independence and will continue to do so," he added.
The Turkish Minister stressed that without establishing peace in Georgia there will be no peace in the Caucasus. "That's why solving the problems existing in Georgia, including conflict issues, and maintaining peace are the most important things for the region," Davutoglu stated. He said that, in support of these principles, Turkey is ready to "do its best" to resolve the problem of breakaway Abkhazia. The Turkish Minister noted that his Deputy will visit Abkhazia in person to address the problem.
The two Ministers agreed to boost Turkish-Georgian economic cooperation and transform it into "economic integration". The sides have also agreed to create several working groups to maintain a "systematic connection" between Georgia and Turkey. The Ministers said they had agreed to meet every three months to discuss strategic issues. A meeting between the Turkish Foreign Minister and Georgian President is scheduled for today, and the issue of the detained captain is expected to be discussed, as well as issues of strategic cooperation between the two countries.
The Georgian media has reported, based on a statement by Georgia's Ambassador to Turkey Tariel Lebanidze, that according to the Turkish side the vessel was not detained in Georgian waters as it was still sailing in international waters when it was detained.