President says Georgia will be united again
By Mzia Kupunia
Monday, September 14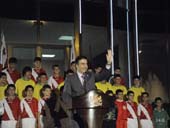 "This is not Mallorca or the Canary islands; this is Terjola, in Imereti in Georgia, and it is our people who have created this beauty," Georgian President Mikheil Saakashvili told the residents of the small western Georgian town of Terjola on September 11. He was attending the opening of a new sports palace, a copy of the sports palace which existed in the Georgian village of Tamarasheni until this was occupied and burnt down by Russian and Ossetian forces in August 2008.
Saakashvili said that the new palace was dedicated to the five Terjola citizens who had died last year during the Georgian-Russian conflict. "Now, a year after the enemy opened fire at us with all possible weapons and thought that Georgia was finished and our optimism, resistance and fighting capacity had gone, it must be hard for it to see this sports palace, these fountains and lit streets, and most importantly these people with light in their eyes, a passion for advancement and the love for their homeland," Saakashvili said late on Friday outside the newly build sports palace lit with coloured lights. "We have built much better buildings than that one [in Tamarasheni], however we will return there too, reconstruct it and build better ones," the President said, adding that "we will regain the whole of Georgia and stand firmly on our feet again."
Saakashvili told Terjola residents that the Government was working hard to "keep its promise" made before the Parliamentary elections last year. Saakashvili noted that despite the threat from the enemy, the street rallies, the world crisis and general scepticism "Most of the promises have been fulfilled, but I know that there is 100 times more yet to be done."
The President spoke about the second city of Georgia, Kutaisi, calling it a "second Paris". "I promised you I would make Kutaisi the second capital of Georgia. Many laughed at this then, but Kutaisi is the heart of Georgia and the geographical centre of the country," he said, highlighting that the Georgian Parliament had adopted a bill about the "partial relocation" of Parliament to Kutaisi. "Tbilisi is the most precious city in the world for me and Tbilisi is the capital of Georgia – unique and special… however Kutaisi is the heart of Georgia. I want to create this European city with our own hands. Together we will manage this," Saakashvili said.
"Let's continue building and developing and show everyone that even a bigger country than ours will not be able to defeat us. Maybe we are fewer in number and less powerful, maybe we don't have a lot of money, but we are talented. Maybe we do not have weapons, but we are courageous. Evil will not be able to defeat people who are bold, talented and full of faith," the President concluded. His speech was followed by fireworks in the centre of Terjola.