SOCAR will invest USD 20 mln in gasification of Georgia in 2009
By Messenger Staff
Tuesday, September 15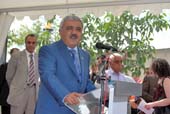 The State Oil Company of the Azerbaijan Republic (SOCAR) has started the gasification of the Georgian regions by opening three new gas supply outlets in Eastern Georgia on September 12.
Speaking at the opening ceremony of these SOCAR President Rovnag Abdullaev stated that the company will provide natural gas for 57,000 families in 2009, spending USD 20 million on this. "The project is planned to take three years to complete and cost about USD 100 million. We have promised the Georgian Government that it will provide gas for 250,000 families but I think we will do more than this and manage to bring gas to more than 300,000 families," Abdullaev told
The Messenger
after the ceremony.
Georgian Energy Minister Alexander Khetaguri, who also attended the opening, noted that SOCAR's project was part of the Georgian President's programme 'Gas in Every Village' and that when it was complete more than 70% of the Georgian population would have access to natural gas.
Also on September 12 Khetaguri and Abdullaev participated in the opening of a new gas network and distribution centre in the village of Yormuganlo in the Sagarejo district. Earlier the SOCAR President had opened a rehabilitated pipeline in the town of Dmanisi, whose residents has been waiting for a gas supply since the collapse of the Soviet Union. Those residents noted however that the price they have to pay for installing natural gas systems and meters in their homes was still too high. "I have to pay 681 lari [USD 410] to have gas in my home. Of course it's worth it, because I'm spending more on buying wood for my heaters, however it's still too high a cost for us," stated Dmanisi resident Mariam Khoniashvili.
The Governor of the Kvemo Kartli region, Davit Kirkitadze, assured the local population that the price of gasification will not have to be paid all at once. "We have managed to negotiate with People's Bank and this sum can be paid over several months, for up to one or two years, so it will be easier for local residents to cover gasification costs," Kirkitadze told The Messenger. "Under our agreement with the Georgian Government we have the right to set a new tariff for the new consumers of our gas, but we have taken into account the financial problems of Georgian residents and decided to charge the existing tariffs, without any changes," Rovnag Abdullaev added.
Azerbaijan is currently Georgia's main natural gas supplier. 1.5 million cubic metres of gas per day is delivered by the State Oil Company of the Azerbaijan Republic (SOCAR). Another one million cubic metres is received via the South Caucasus Pipeline from the Shah Deniz gas fields in Azerbaijan and Georgia also takes 10% of the gas volume transported through its territory from Russia to Armenia as part of a transit payment. A range of Georgian enterprises also purchase Russian gas privately under direct agreements.