New school opened by TBC Fund in IDP settlement
By Londa Mindiashvili
Tuesday, September 15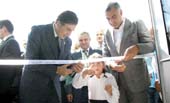 A newly built school in the Tserovani IDP settlement was opened by President Mikheil Saakashvili and the founder of the TBC Fund Mamuka Khazaradze on September 14, the start of the new academic year. About 900 IDPs will study at the new school, built by the TBC Fund at a cost of GEL 4.5 million and equipped with all kinds of modern educational aids. The teachers at the school will be IDPs who previously taught in schools in Akhalgori and Didi and Patara Liakhvi Gorge, areas now occupied by Russian forces.
In his address to the IDP children and teachers President Saakashvili stated that Georgia should be equipped with knowledge in order to succeed against its cruel enemy and occupier, adding that the Russian President had dedicated half of his speech on the new school year to how bad Georgia is but he, Saakashvili, had come to school to talk about how good we are. The President highlighted that "Our land is still occupied, but although we have not yet won, they have already lost this struggle. To eventually win this struggle we need knowledge; we won't be able to prevail over them with weapons nor numbers of people nor cruelty, because we are the opposite of this, and in order to get rid of this cruel enemy we need to be equipped with knowledge," Saakashvili stated.
Minister of Education and Science Nika Gvaramia also attended the opening. "It is a really wonderful school and a clear example of the building of Georgia and the course of our country. The whole settlement of Tserovani, including this school, is a symbol of a new life. The school is in accordance with modern standards. I am sure it will be successful. It is impossible to study badly in such a good school," noted Gvaramia.
Before going to Tserovani Saakashvili had visited the village of Vakhtangisi, in the Gardabani region, where he congratulated Azeri pupils on the new academic year. Saakashvili awarded the oldest Georgian literature teacher, Nazi Tsiklauri, the Order of Honour.
More than 300 public schools have been renovated for the new school year. However, the start of the year will be delayed at several schools due to rehabilitation works. In Oni district schools the academic year will begin on September 21. "Checks of school buildings are being undertaken by employees of the Ministry of Education and seismologists. The school year will start when these have been completed," stated Davit Gagoshidze, the President's Representative in Racha-Lechkhumi and Kvemo Svaneti, who added that due to small pupil numbers some village schools have been amalgamated.
The Minister of Education says that programmes previously initiated by the President will be continued, for instance, the My First Computer programme. Ninth grade students will be given awards for the first time this year and successful twelfth grade students will again be awarded gold and silver medals. The President stated that this awards programme is a really good incentive for pupils and must be continued. All first graders will also be given gifts by the President – school books and bags.