Japan helps prevent diabetes in Georgia
By Messenger Staff
Thursday, September 17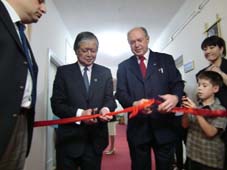 On September 15, the handover ceremony of the Project for Prevention of Diabetes Complications, implemented as part of the Grassroots and Human Security Grant Assistance Programme of the Government of Japan, was held at the Georgian Diabetes Centre.
The grant contract of the abovementioned project was signed on October 30, 2008 by the Embassy of Japan and the Georgian Diabetes and Endocrinological Association Union (GUDEAS). The project aims to develop the practice of preventive health care by introducing the systematic prevention of diabetes complications through providing special equipment for their diagnosis. More than 5,000 people will benefit from it, including 2,500 diabetics registered at the Diabetes Centre of Georgia. The project is worth 88,000 USD.
The Ceremony was attended by H.E. Masayoshi Kamohara, Ambassador Extraordinary and Plenipotentiary of Japan to Georgia, who expressed his heartfelt gratitude to all those actively involved in the formulation and implementation of this project. The Ambassador emphasised his interest in diabetes issues and said that combating this disease is one of the strongest challenges to modern society and the prevention of diabetes and its complications is very important for the preservation of quality of life as well as the substantive development of a country.
"It is known that the number of people suffering from diabetes is rapidly increasing all over the world and more than 3 million people are dying because of diabetes complications every year. Georgia is not an exception and it is said that there are about two hundred thousand diabetics in this country," Kamohara stated at the ceremony, adding that many people in Japan believe that Georgia is a country in which to lead a long and healthy life blessed with a rich natural environment. "I sincerely hope that this project will contribute to making this belief the truth and that Georgia will become a country of long and flourishing life," he concluded.
Ramaz Kurashvili, President of the Georgian Union of Diabetes and Endocrinological Associations, welcomed the guests and expressed his cordial gratitude to all the staff of actively involved in furthering this project, who have had this problem at heart. In his welcoming speech Kurashvili highlighted that expensive medical intervention is needed for diabetic patients and preventing metabolic diseases and their complications is the only way to stop this problem becoming too great for society to bear.
"The main aim of the project is the screening and prevention of metabolic diseases using modern technology and knowledge, resulting in a decrease of risk of metabolic disorders such as diabetes, obesity, chronic respiratory diseases, osteoporosis and cardiovascular diseases in the Georgian population," Kurashvili said. Kurashvili explained that the project enabled staff to examine 5,000 patients per year with modern equipment and thereby detect diabetes and its complications (micro/macrovascular, cardio-pulmonological).
Grassroots and Human Security Grant Assistance Programme grants are provided to relatively small-scale projects undertaken by municipalities, medical institutions, academic institutes and NGOs which aim to improve the living standards of Georgian people suffering from hardship. Such projects might be implemented in the fields of public health, medicine, elementary and secondary education, social protection and environment, poverty reduction and increase of incomes. The programme began in 1998 and so far 84 projects worth 5,641,072 USD have been implemented under this programme in Georgia.
Japan's total Official Development Assistance to Georgia is 150.4 million USD, covering a wide range of areas such as improvements in economic infrastructure, the agricultural and social sectors and the cultural field and human resource development.