Belarus will discuss recognition of Abkhazia and South Ossetia
By Temuri Kiguradze
Thursday, September 17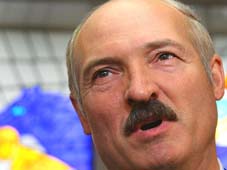 Belarus President Alexander Lukashenko has stated that the Parliament of his country will discuss the possibility of recognising Georgia's breakaway regions of Abkhazia and South Ossetia as independent at the start of its plenary session in October 2009. This statement was made just before Lukashenko's visit to Lithuania on September 16.
"If we look at this from the humanitarian point of view, we should have supported Moscow on this issue a long time ago," stated Lukashenko, as quoted by the Russian
Ekho Moskvy
radio station.
Alexander Lukashenko denied that Russia had put pressure on him over this issue. "We don't recognise any kind of pressure, even if it comes from the brother country," he said, referring to Russia.
The Belarus leader supported Russia's actions during the military conflict in Georgia in August 2008 but refused to follow Russia's recognition of Abkhazia and South Ossetia as 'independent states', declaring that "this question should be decided on the basis of the opinion of the Parliament and people." It was expected that Belarus lawmakers would discuss it in April 2009 but that debate was postponed for an indefinite period. The delay coincided with Lukashenko accusing the Russian authorities of pressurising Belarus to agree to the recognition of the Georgian breakaway regions in exchange for additional financial support. "They [Russian officials] arrived here and told us: if you give us [the recognition of] Abkhazia and South Ossetia you will get USD 500 million. But you know, we don't want to "sell" any questions or positions," Lukashenko said back in early June 2009.
At the end of July the Belarus Foreign Ministry urged its citizens to avoid entering Abkhazia and South Ossetia through Russian-controlled territory without the special permission of the Georgian Government. "Any entry into Abkhazia and South Ossetia without such permission is prohibited and punishable under the Criminal Code of Georgia. We insistently recommend to our citizens that they take into consideration these provisions of Georgian legislation when planning trips to Abkhazia and South Ossetia," the Ministry then stated. This announcement was praised by the Georgian authorities. Georgian President Mikheil Saakashvili called it a "very brave decision," considering the possible negative reaction from the Russia side.
"Lukashenko is quite a clever politician who is trying to toy with Europe on this issue. It's less than likely that Minsk will recognise Abkhazia and South Ossetia as this would completely spoil relations with the West at present. Lukashenko is just trying to get the maximum economic benefit from both Russia and Europe," Georgian independent conflict analyst Malkhaz Chemia told
The Messenger
on Wednesday.
The 'independence' of Abkhazia and South Ossetia was recognised by Russia in August 2008 after a brief military conflict with Georgia. The international community condemned this decision. Only two Latin American countries, Nicaragua and Venezuela, have followed Russia's lead.