Controversial Football Federation President resigns
By Etuna Tsotniashvili
Friday, September 18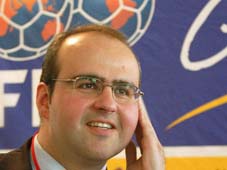 On September 17 Nodar Akhalkatsi, the President of the Georgian Football Federation, resigned due to the Georgian national team's poor results. He gave no other reason for his decision, claiming he was leaving "voluntarily".
"In recent games the Georgian national team has not obtained good results, we have not managed to win those games. National team fans are dissatisfied and this is quite understandable. So I cannot allow myself to remain in this post and have decided to leave," Akhalkatsi stated yesterday at a brief press conference.
Minister of Culture, Sport and Monument Protection Nika Rurua, who met Akhalkatsi on the eve of his resignation, commented that the reason Akhalkatsi had made this decision was not known to him. He added that during their meeting the two men discussed only football issues and the future development of the sport in Georgia. Rurua did not state who might replace Akhalkatsi, but one candidate is reported to be Zviad Sichinava, a businessman and owner of the Zugdidi-based football club Baia. Sichinava has not confirmed this, stating that he had only just heard that the GFF President had resigned.
The Parliamentary opposition thinks that there a serious crisis has been caused in Georgian football due to State officials' 'rough' intervention in football issues. Leader of the Christian Democratic Movement Giorgi Targamadze has stated that the resignation of the President of the Football Federation will not solve the sport's problems. He said that the crisis began when the previous elected President was removed. Giorgi Asanidze, the former Olympic weightlifting champion who is now Chairman of the Sports and Youth Issues Parliamentary Committee, also thinks that Akhalkatsi's resignation will not resolve the problems in the Football Federation as there is a complex internal confrontation going on there.
Akhalkatsi was elected as President of the GFF on May 17, 2007. At that election Giorgi Nemsadze beat Akhalkatsi by 19 votes to 13, but suddenly resigned an hour after his victory. Akhalkatsi was thus elected on a second ballot after receiving great support from the Government. Nemsadze's decision created public suspicion that pressure had been put on him from above, but the then Culture and Sport Minister Goka Gabashvili strongly denied this.
The election of a new GFF President will be held on October 1. Those wishing to apply for the post can do so between 17 and 26 September.