Georgian books burned in South Ossetia
By Temuri Kiguradze
Friday, September 18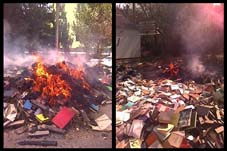 About a tonne of books from a Tskhinvali library, include works of Georgian literature, were burned in the centre of the South Ossetian capital on September 16, the Russian and Georgian media have reported.
According to eye-witnesses the books were removed from the library of the South Ossetia University on September 10 and thrown into a pile on the ground. Local residents state that many of these books were in the Georgian language but Russian literature was also burned. "The books were in quite good condition, and my friends and I took some from the pile. We mainly took foreign classic literature. We found a History of French Literature among the discarded books," stated Timur Tskhovrebov, a South Ossetian journalist, as quoted by the Russian
Kommersant
newspaper. Tskhovrebov noted that there were so many books burned that the fire lasted two days.
The South Ossetian separatist authorities have given differing explanations of this incident. Despite photographs of the burning of the books being presented, the rector of South Ossetian University Teimuraz Kokoev stated that the accusations were "a provocation, a lie and a PR action against South Ossetia." He underlined that "there was no burning of books in Tskhinvali." Some time later however he admitted that he had given an order for the "destruction of books that were in bad condition" but strictly denied that these had been burnt.
The so-called Minister of Education of South Ossetia stated that he did not possess any information about a fire, but notes that an "ordinary process of the liquidation of damaged books" had taken place. However Tskhovrebov, who is Editor of South Ossetian newspaper XXI Century, stated that the books had been burned because South Ossetian University "didn't have space for the new books presented by the Russian Government as humanitarian aid." The burning of the books was further confirmed by North Ossetian journalist Alan Tskhurbaev, who wrote in his internet diary that books were being taken to the fire site by truck, "and soldiers were throwing them into the flames."
Timur Tskhovrebov, who is also famous for his military activity during the conflict with Georgia, noted that "about 30 percent of the destroyed books were in Georgian." "I fought against Georgians, I shot them, but why should we touch their books, their literature? I'm sure that our (South Ossetian de facto) Minister of Education is aware of this barbaric action," stated Tskhovrebov.
Tbilisi has compared this incident to the Nazi regime destroying the works of Jewish writers during World War II. "History records a great number of similar barbaric acts. Reading such media reports inspires a certain sense of deja vu. Let us invoke the memories of the days when the works of humanists and philosophers were replaced by works advocating Nazi and Soviet ideology. For those who are forgetful we'd like to recall the havoc wreaked upon those regimes and their stalwart supporters who were engaged in misanthropic propaganda practices," stated the Georgian Foreign Ministry. It also noted that "Russia's aggression against Georgia, its ethnic cleansing and its destruction of our cultural legacy has brought into the occupied territories of Georgia barbarism and a bonfire of books which belong to the era of ignorance of the Middle Ages."
After the burning of books attracted media attention the South Ossetian de facto law enforcers announced that they would "investigate" the incident. New Russian books are scheduled to be delivered to already "prepared" South Ossetian libraries by September 20.