Maghradze talks about Presidential con
By Londa Mindiashvili
Tuesday, September 22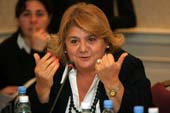 The President's proposal earlier this year that opposition leaders could become Deputy Ministers was just part of a PR campaign, the leader of the Women's Party for Justice and Equality, Guguli Maghradze, said at a press conference on September 21. Maghradze had responded to the President's offer by asking the Education Minister in writing to appoint her as his Deputy back in July, but the only response she received was that the "Minister had been informed of her request." Maghradze accused the President of ignoring her application and the Government of being cowardly.
Maghradze said that the Government is weak and had attempted to present itself as democratic through the opposition but had not managed it. "My application was a distinct test for the Government. The present Government is too weak to consider having even one person in the governmental system who will not be subordinated to it like a slave. So it was no surprise to me that the Government took the most cowardly position by not even answering me," explained Maghradze.
Maghradze believes that the authorities are afraid of professional and principled people who have a point of view and can defend their position firmly. She said that the improvement of any country is only possible when different opinions are expressed within its Government, something natural in any democratic country. "Another sign of the weakness of the Government is its desire to control the information space in order to prevent society hearing different opinions," added Maghradze.
The Messenger
tried to obtain a comment on this from the Ministry of Education and Science, however neither Deputy Minister Nodar Surguladze nor its press service provided one.
Guguli Maghradze was the second opposition leader, after Salome Zourabichvili, the leader of the Way of Georgia, to take the President at his word. Zourabichvili asked to be appointed as Deputy Minister of Internal Affairs but her application was rejected by the Government.
Labour Party member Soso Shatberashvili has stated that accepting or rejecting the President's offer is an opposition politician's right, but they are rejected by the Government no matter what. "Our party would never accept any such suggestion from the President. He tried to make accept, and offered us very senior Government posts and a lot of money, but we did not. We will continue to reject it in future," Shatberashvili told
The Messenger
.
Analyst Gia Khukhashvili has said that the President's proposal to the opposition was "Just a lie." He explained that the President did not think that members of the radical opposition would agree, but they did. "These women knew very well that the Government would never do what it had said it would and they exposed as a facade this allegedly constructive proposal," he added.
Kakha Kukava from the Conservative Party said that "The President's proposal wasn't serious. We do not expect him to actually act on it. It is pure fiction."