Ramishvili exposes problems in Rustavi prison
By Mzia Kupunia
Tuesday, September 22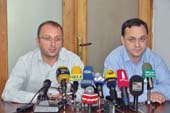 Shalva Ramishvili, a Georgian journalist recently released from prison, and MP Giorgi Tsagareishvili held a joint press conference on Monday in which they claimed that the inmates of Rustavi Prison number 2 live in "bad conditions".
Shalva Ramishvili, who said that "as the revolution has failed, it is better to transfer to constructive relations with the Government," stated that Prison no. 2 in Rustavi is overcrowded. He said that about 500 prisoners have no beds to sleep on and have to sleep one after another. "I have named a specific person," Ramishvili said, referring to the detainee Irakli Tsurtsumia, "and there are also 500 other people without beds. These people have no way to sleep and this equals torture," he stated, requesting that the Minister for Penitentiary and Probation answer questions about the situation in Rustavi Prison no. 2. "It is not enough to open bakeries in the prisons, it will not solve the problem of sleep," Ramishvili told journalists.
He also said there are problems connected with hygiene and food. "The shower in the prison works only every second day." He added that the prison administration explains this by saying they have water and natural gas debts. "The prisoners were considering starting a hunger strike, but this idea was later abandoned," he stated. Ramishvili said that no international organisations had visited the prison for a year.
Gia Tsagareishvili said that he had twice asked Parliament Speaker David Bakradze to let him enter Rustavi Prison no. 2, but had received no answer. He asked Bakradze once more at the press conference for the right to enter the prison. He also asked Minister of Penitentiary and Probation Dimitri Shashkin to confirm or deny the information provided by Ramishvili.
Vice Speaker of the Georgian Parliament Gigi Tsereteli commented on the allegations of Ramishvili and Tsagareishvili. He said he had no information about the requests sent to the Parliament Speaker by the opposition MP. "I know that Bakradze has not refused requests by several opposition MPs, for example Gia Tortladze and Jondi Baghaturia, to visit prisons," Tsereteli told The Messenger. "I cannot say exactly what is going on in Rustavi Prison no. 2, but I have been to a newly opened prison there, and the conditions were not so bad. The living conditions there are much better than what we have seen previously," Tsereteli added.
The Vice Speaker said that the situation is generally improving in this field. "It is possible that some of the prisons do not meet the appropriate standards yet, and some are still overcrowded, however this problem will be resolved when new prisons come into operation. I will look into this, but right now I can say that not all problems can be resolved in a short period of time," Tsereteli stated.