Clinton says US new administration supports Georgia
By Mzia Kupunia
Wednesday, September 23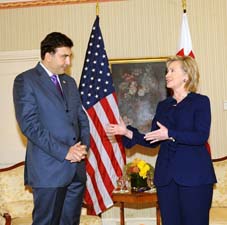 The new US administration has reiterated its support of Georgia's territorial integrity and sovereignty. On September 21 US Secretary of State Hillary Clinton said in her media comments before meeting Georgian President Mikheil Saakashvili, who is visiting US with a Georgian delegation to attend the UN General Assembly, that the US administration is "working hard to try to ensure that Russia abides by the 2008 ceasefire, and hopefully eventually reintegrate your country as it should be." "We also know that working toward democracy and the changes that you're attempting to achieve are challenging, but we want to support and encourage the steps that need to be taken. And the United States supports Georgia, and we want to make that very clear and unequivocal statement here today," Clinton stated.
President Saakashvili thanked Clinton for her support for Georgia, saying that under the new administration Georgia and US have a "new level of cooperation". "I also saw your article this morning in the Financial Times of London, and it was very impressive because the message was very clear-cut, very unambiguous," Saakashvili told the Secretary of State at the Waldorf Astoria Hotel in New York, "And we are very grateful to you for that moral clarity, as well as your strategic vision of what the U.S. role in our region should be," he added.
Assistant Secretary of State Philip Gordon held a briefing for media after the meeting between Clinton and Saakashvili. He said that the United States "strongly" supports Georgia's territorial integrity and sovereignty. He said that at the meeting Clinton had called on Georgia to show a "strategic patience" on the issue of its breakaway regions. "She also made clear our view that there's not a short-term fix to the problems of South Ossetia and Abkhazia, as much as we want Russian troops to leave those territories as soon as possible, but the best way forward would be one of strategic patience, whereby Georgia shows itself to be an attractive place, stronger, democratic and prosperous," Gordon stated.
Gordon noted that, as mentioned at the meeting, the US "does not and will not recognise South Ossetia and Abkhazia," and added that the United States would continue to work with other members of the international community "so that other countries will not recognise as well." According to Deputy Assistant Secretary Clinton welcomed the progress Georgia has made in "strengthening its democracy" and encouraged Saakashvili to continue in that direction. Gordon said that although Georgia has really made remarkable strides "it has more work to do." "We think it should continue down the road of democratisation, including the areas of judiciary, media, electoral reform and so on," the Deputy Secretary of State stated.
Georgian officials have assessed the meeting of Clinton and Saakashvili as "positive." Secretary of the Security Council Eka Tkeshelashvili, who is part of the Georgian delegation in New York, said "the issues discussed at the meeting are important not only for Georgia but the whole region." Georgian Minister for Reintegration Temur Iakobashvili said that US support is very important for Georgia. "It is crucial that Georgia has the support of such a country as the United States not only on the level of words. I think that when its policy is worked out it will take specific actions. It is possible that we will hear some of these specific actions outlined at the UN General Assembly," the Minister stated.
"The US supports Georgia, but this support is not unconditional," Giorgi Targamadze, an opposition lawmaker from the Christian Democratic Movement said on September 22. "Carrying out democratic reforms and strengthening democratic values is crucial for Georgia," he said at a Parliamentary plenary session, adding that Georgia's security comes from the strengthening of these values.
US messages supporting Georgia and its calls for Russia to meet its commitments will have tangible results only after years of persistent effort, not only from the US but the whole international community, Georgian analysts say. "The statement of Hillary Clinton is just a small brick in the construction of a wall. International policy towards Russia should change if we want to achieve real results as a result of the statements," political analyst Shalva Pichkhadze said.
As for the calls of the US Secretary of State to carry out democratic reforms in Georgia, Pichkhadze stated that if the US really wants to see genuine democratic changes in Georgia it needs to help create a pro-American force in the opposition which could be an alternative to Saakashvili's Government. "The US can indirectly fund this – I mean the US Government can fund the NGO sector in Georgia or finance the development of the media in this country, and in this way somehow support creating an alternative force in the country," Pichkhadze told
The Messenger
.