Tbilisi's parking problems discussed in Parliament
By Etuna Tsotniashvili
Thursday, September 24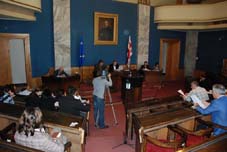 On September 23 a new legislative initiative by Tbilisi City Hall was discussed by Parliament's Finance and Budget Committee. Under this the fines for illegal parking and travelling without a ticket in the capital will be reduced and relevant amendments made in the code of administrative (civil) offences.
A new 25 GEL car parking card will be introduced, entitling car owners to park for one year in all car parks in Tbilisi from 1 October. Parking fees for those who have not prepayed will be decreased from 20 to 10 GEL. Fines will also be reduced – that for illegal parking from 40 to 10 GEL and for travelling without a ticket from 15 to 10 GEL. However MP Lasha Tordia, co-author of this bill with Giorgi Meladze, declared that under the bill being discussed a vehicle could be removed to a specially guarded area if it is left in a parking zone without payment for more than 12 hours. A vehicle will also be taken there if it hampers road movement, causes a traffic jam or endangers road safety. If a car is in the guarded area it will only be possible to reclaim it by presenting parking fine receipts and other documentation.
Opposition MP and leader of the Georgian Troupe Jondi Baghaturia held a briefing yesterday at which he assessed the new parking proposals positively. He welcomed Tbilisi City Hall's new decision and stated that the parking fees had been considerably decreased. "After I made a statement at a Parliament session about CT Park and its tariffs, a working meeting was held in Tbilisi City Hall where it was decided that the municipality would set the parking rules in future and not this company," Baghaturia said.
CT Park denies that it has given up administering parking in the city, adding that the company is continuing to work as normal and has not received any kind of statement from Tbilisi City Hall. CT Park does not exclude initiating a court case if City Hall reneges on its contract with it.
On September 14 the management of CT Park and representatives of the Parliamentary opposition had met Mayor of Tbilisi Gigi Ugulava at City Hall. They discussed parking arrangements in Tbilisi and payment concerns. Gigi Ugulava announced then that the municipality was seeking to simplify parking payment procedures and reduce fees. CT Park, which had won the tender to do this, had now introduced a new parking system, but it had run into problems and Ugulava himself had certain objections to it, as had other citizens.
"The parking methods and tariffs are not aceptable for the population. I have therefore asked CT Park to produce annual parking cards, which will cost 25 GEL. With these cards drivers will be able to park in any parking place in Tbilisi," Ugulava stated on September 11. He added that work to resolve Tbilisi's traffic problems was also being undertaken, and this involved building new roads, reconfiguring ten overcrowded crossroads and creating new parking lots.
CT Park recently toughened the penalties it imposes on drivers who do not obey the parking rules. Its Deputy Operations Manager Irakli Jibladze said that drivers are fined in three instances – if they don't pay their parking fees, if they park at the wrong angle and if they park outside a parking zone. He said that drivers who don't pay for 1 to 3 hours of parking are fined GEL 20, a sum which rises to GEL 40 for not paying for 3 to 6 hours of parking. A car parked for more than 9 hours without payment is towed away to a special area.
Tbilisi City Hall's initiative is still being discussed and no final decision has yet been made on whether the existing CT Park rules will be changed.