Refurbished museum for ancient archaeological site
By Messenger Staff
Friday, September 25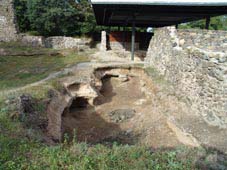 On September 24 an archaeological museum was opened in Dmanisi to preserve and display the very important and unique artefacts found there and inform people about archaeological activities.
At the opening Director of the Georgian National Museum Davit Lortkipanidze stated that Dmanisi Museum is the first in the world in which visitors can watch archaeologists at work and witness new discoveries themselves as well as gaining information about other finds.
The museum displays artefacts from three epochs: the stone age, bronze age and middle ages. Visitors will have the chance to see the things discovered in Dmanisi and the first European humans, who have been named Mzia and Zezva.
The Dmanisi discoveries are world famous and the international media reports the ongoing archaeological work there.
Nature, Science, Discover Magazine, Geo, the New York Times, the Washington Post, the Daily Telegraph, The Independent, the National Geographic Channel, the BBC, the Discovery Channel and CNN
are among the news outlets who have reported from Dmanisi.
BP has actively supported the National Museum's work in Dmanisi. At the opening ceremony of the museum Neil Dunn, General Manager of BP in Georgia, stated: "With a great sense of satisfaction I can see that the goal is being reached and the Dmanisi archaeological site is well on its way to becoming one of the most historically significant museums in the world. This attraction not only preserves these artefacts in a scientifically sound manner, but communicates the importance of this discovery in an interactive way."