Illegal extension collapses in Tbilisi
By Messenger Staff
Friday, September 25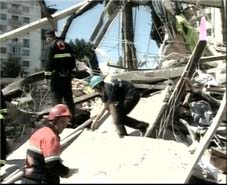 A house collapsed in Nutsubidze Street in Tbilisi on the morning of September 24. The extension of a nine-storey block collapsed gradually and all the flats above the third floor have been completely destroyed. Fortunately no casualties are reported.
The fire brigade, emergency service and rescue teams were mobilized and have been at the place of the incident since morning. Investigators are working at the scene in order to establish why the incident occurred. It is believed at this stage that the building was damaged prior to collapse.
Mayor of Tbilisi Gigi Ugulava, Chair of Tbilisi City Council Zaal Samadashvili and Saburtalo District officials have visited the site of the accident. The Mayor and the head of the Supervisory Service of Tbilisi City Hall Zviad Kervalishvili explained that building extensions to blocks always bore a certain risk. Citizens of Tbilisi have been warned many times to remove such extensions, and permission to build them was given years ago but not today.
"Unfortunately, extensions have been the main problem of City Hall since the 90s. This problem is very difficult to resolve. We call on local inhabitants to ask the Tbilisi Mayor to order a diagnostic assessment of these structures and not resist dismantling them," said Ugulava. Samadashvili also appealed to locals to cooperate with City Hall and announced that Tbilisi City Hall itself "will devise ways to improve the situation and prevent repetitions of this kind of incident."
Zviad Kervalishvili highlighted in speaking with journalists that the extension was illegal and housed nine families, although no one was injured. He explained that the Supervisory Service intends to conduct a full analysis of damaged buildings, 70% of the costs of this analysis being allocated by the Mayor of Tbilisi with only 30% coming from the citizens. If residents want to dismantle an extension the Supervisory Service will help them. "The people should decide for themselves. If they agree with a proposal our service will help them technically. We must prevent these kind of incidents," stated Kervalishvili.
The residents of the collapsed house stated that they had been planning to ask Tbilisi City Hall for a diagnostic assessment of the extension but had been too late.