Saakashvili says he does not regret standing up to Russia
By Mzia Kupunia
Friday, September 25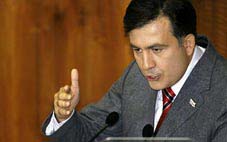 Georgian President Mikheil Saakashvili said on September 24 that he does regret standing up to Russia. He was speaking to Georgian emigrants living in the US prior to his address to the UN General Assembly in New York. "I don't have any regret that I resisted [the Russian aggression], and neither do our IDPs regret this," he said, referring to the Georgian-Russian conflict in August 2008. He added that all Governments which had preferred to flee rather than stand up to Russia afterwards regretted their decision. "I know very well that all Governments who thought they could avoid such a situation and then come back died still regretting this," the Georgian President said.
He told the emigrants that the "enemy" which did not want Georgia to exist had failed to achieve its goal. "Today Georgia should be on its knees, a miserable beggar, because this is what the enemy decided it would become, but this will not happen," he said. He noted that Georgia has now established itself in the world. "We have become known [to the international community] and Georgia stands before the world as the most advanced and developing state in Eastern and Central Europe," he said, adding that the people fighting against Georgia have an "inferiority complex".
Saakashvili stated that Russia had failed to find allies in the international community. "The only ally Putin was able to find was Hugo Chavez," he said. "None of the normal states in the world, including those in our region, are or will be allies of Russia. I have met the Presidents of several states at the UN General Assembly and I know what their mood is," he added.
The President said Georgia had showed unity in facing the common enemy. "There were rallies and demonstrations in Tbilisi, but I was sure that nothing would happen, because our people know exactly what is a matter of personal ambition and what is in the interests of their country," Saakashvili told the emigrants.
Saakashvili asked the emigrants to return to Georgia. A charity concert featuring Georgian musicians working abroad has been held in the Kaufman Center, where Saakashvili addressed the emigrants. Money from the concert will be spent for building a Georgian church in New York.