ProCredit Bank celebrates 10th anniversary in Georgia
By Mzia Kupunia
Monday, September 28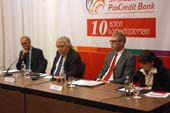 ProCredit Bank celebrated 10 years of operation in Georgia on September 25. Chairman of the Supervisory Board of ProCreditBank Holding AG, Dr. Claus-Peter Zeitinger, Chairman of the Supervisory Board of ProCredit Bank Georgia Stephan Boven and General Director of ProCredit Bank Georgia Philipp Pott held a special press conference in this connection on Friday in the Radisson Sas Iveria Hotel.
The speakers claimed that ProCredit Bank had entered Georgia with the goal of establishing a new type of banking institution, which "would make a real difference." Dr. Claus-Peter Zeitinger listed some of the aspects which he said make ProCredit Bank "different". He said that unlike mainstream commercial banks ProCredit focused on small and very small enterprises which "do not have access to formal banking services, especially loans." He added that ProCredit Bank had not participated in the consumer lending and credit boom experienced in Georgia recently. Zeitinger said the issue should be dealt with "in a responsible manner." ProCredit Bank had tried to promote a culture of saving in Georgia, enabling people to fulfil their plans without risking becoming over-indebted.
The speakers said that ProCredit Bank had managed to cope with the world financial crisis. "In Georgia over the last twelve months ProCredit Bank has increased its market share from 8% to 10 % in both deposits and loans, and the profitability of the bank remained strong (for the year 2008 it posted an IFRS profit of USD 8.1 million after tax and in the first eight months of 2009 the bank has already earned USD 6.3 million). Dr. Zeitinger said that about 10 new branches of the bank would be opened in Georgia next year. "If you let us, we will stay here forever," he added.
"In the last ten years we have invested a lot in building a bank that, we hope, makes a real difference in Georgia. Today we are glad to celebrate our 10th anniversary together with out clients, partners, colleagues from the banking sector and representatives of Government and the business community," the General Director of ProCredit Bank Georgia said.
Later on Friday a special reception was also held at the Radisson Sas Iveria Hotel attended by Georgian Prime Minister Nika Gilauri. He congratulated the bank representatives on their anniversary and praised ProCredit Bank for being "one of the most successful investments in Georgia."