New Public Defender meets Minister and minorities
By Gvantsa Gabekhadze
Wednesday, September 30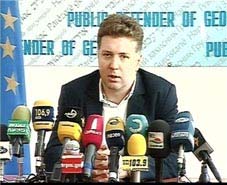 Public Defender Giorgi Tughushi held a meeting with Minister of Penitentiary, Probation and Legal Assistance Dimitri Shashkin at the Public Defenderís office yesterday. Before the meeting Shashkin commented on the main issues that would be discussed. He suggested that the main theme would be the new National Prevention Mechanism, which would enable the Public Defender to enter any penal institution and monitor conditions there without obstacle.
ďI hope that the Ministry will have constructive collaboration with the new Public Defender. I am sure we will be able to agree on important issues,Ē stated Shashkin. Tughushi said that the National Prevention Mechanism has essential importance for the Public Defender as it would enable him to fulfil his responsibilities more effectively. ďA group monitoring the prisons has existed at the Public Defenderís office for years. The group of eight persons will now be reinforced with analysts and its work will become more focused and effective. We have a great desire to talk about the Ministryís future plans and priorities with the Minister,Ē said Tughushi.
Tughushi also met representatives of the National Minorities and Religious Councils on September 28. Former Ombudsman Sozar Subari also attended this meeting, where the Councilsí performance and the Ombudsmanís Officeís participation in resolving problems concerning minorities and religious groups were summarised. This meeting was organised by the Tolerance Centre as part of thePublic Defenderís Office Support Project
Future priorities and plans were discussed. Representatives of the national and religious minorities said that they cherish hopes that the new Public Defender will support them and help the councils function normally and thanked outgoing Public Defender Subari for fulfilling his responsibilities correctly. Tughushi stated that his aim was to do his best to protect each manís rights and promised the representatives his future assistance and collaboration. Each side expressed the hope that their relationship would be successful and fertile.