New economic package discussed with ruling party MPs
By Mzia Kupunia
Wednesday, September 30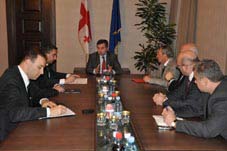 In the next two weeks the Government is planning to present a new economic package designed to liberalise the economy, limit the State's role in economic activity, reduce taxes and ensure the fast and stable growth of the private sector, Georgian Prime Minister Nika Gilauri said on Tuesday. Gilauri was speaking at a special press briefing in the Georgian Parliament, following a closed door meeting with the Parliamentary majority group, the Parliament Speaker and the head of the State Constitutional Commission.
Ministers say that some constitutional changes might be made to "ensure economic stability." The authorities have claimed the changes planned to the Constitution will provide the "highest standard of protection of economic freedom in the country."
Speaker of Parliament David Bakradze said that the main action criteria and parameters of the new package have already been drawn up. He said that the package should bolster the liberal and free economic environment in Georgia, a necessary precondition for the "unhindered" work of local and foreign businesses. "In order to maintain the development of the economy it is necessary to give stability guarantees to local and foreign businessmen. They should be given a guarantee that they will be operating in a protected business environment and their economic freedom will not be restricted in any way," the Parliament Chairman said.
Prime Minister Gilauri said that the new economic package will "put these reforms into a legislative framework." "This will help convince local and foreign investors that the process of reforms is irreversible," the PM said. "Economic activity has increased in the last few months and the number of foreign investors has also grown. We want to make the economic processes which have begun in the country irreversible, that's why we have decided to put the reforms in a judicial framework," he added. Gilauri added that the Government has been working on the new economic package for several months and will present it to Parliament in two weeks time.
The Georgian Finance Minister said that all the clauses in the package will limit the role of the State in the country's economy. Kakha Baindurashvili said that "it is too early" to talk about specific clauses, however the idea behind them would be maintaining the principles of liberalism. "Reducing the State's role in the economy means lowering taxes, and it seeks to achieve the steady and fast growth of the private sector in Georgia," Baindurashvili noted.
Parliamentary minority representatives have demanded that the new package is also discussed with them before being presented. Christian Democrat MP Levan Vephkhvadze said his faction had some proposals and would like to present them to the Prime Minister. David Bakradze responded by saying that the demand of the Christian Democrats is "legitimate" but at the first stage the PM will meet the heads of the Parliamentary Committees. "Afterwards the Parliamentary factions will hold meetings with the Prime Minister," Bakradze stated.