Lavrov to visit Abkhazia after PACE session
By Temuri Kiguradze
Wednesday, September 30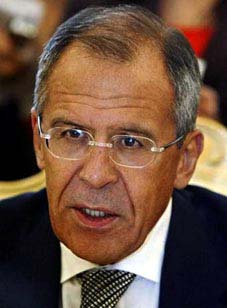 The Russian Foreign Ministry has announced that Minister Sergey Lavrov will pay a two-day visit to the Georgian breakaway region of Abkhazia on October 2. Lavrov has scheduled meetings with the de facto authorities of Abkhazia, including its so-called President Sergey Baghapsh and Foreign Minister Sergey Shamba.
"The sides will discuss the question of the future friendly relations between our countries and the development of full scale relations, assistance for Abkhazia on security issues and international relations", Andrei Nesterenko, a spokesman for the Russian Foreign Ministry, told the RIA Novosti news agency on September 29.
The visit will be conducted after the Parliamentary Assembly of the Council of Europe (PACE) is expected to vote for a resolution critical of Russia's actions in Georgia. "The Russian political leadership has made it clear on several occasions that it will not withdraw its recognition of the two breakaway regions and called upon other countries to accept this "new reality". The question of the status of the two regions, and Russia's divergent position on it compared with the rest of the international community, is often used to justify the non-implementation of the other demands made by the Assembly. However, this argument cannot withstand close scrutiny, as most of the Assembly's demands have no bearing on the status of these two regions. We conclude that the issue of status is used to hide, or mask, a lack of political will to comply with the Assembly's demands," states the draft of the resolution discussed yesterday in Strasbourg.
However the Kremlin still considers that acceptance of these "new realties" is vital for the stabilisation of the situation in the region. "Without recognising new military-political and legal realities in Trans Caucasus it is impossible to expand international cooperation in developing concrete measures on strengthening security and building confidence in the areas of the Georgian-Abkhaz border," stated Nesterenko, commenting on the Lavrov's upcoming visit.
The October 2-3 visit will be Lavrov's second to the breakaway region since Russia recognised Abkhazia and South Ossetia as 'independent' last August. Moscow has stated that this visit is a sign that Russia will continue to support the separatist regions, and this point of view was also sounded during yesterday's PACE debates. "We will not stop protecting them [Ossetians and Abkhazians] while Mikheil Saakashvili's regime is in power in Georgia," stated head of Russian PACE delegation Konstantin Kosachev. He added that the presence of Russian troops on the territories which Georgia considers to be occupied had "saved people" from "Georgian aggression."
The Georgian delegation slammed Russia's position, accusing Moscow of building "a new Berlin wall" in Europe by militarising the Georgian breakaway regions. Georgian MP Petre Tsikarishvili, who is a member of the Georgian PACE delegation, noted that dialogue between Georgia and Russia "is still possible" but only after Russia "withdraws its troops from the occupied territories, provides secure repatriation of IDPs and reverses its recognition of Georgia's separatist regions."