First Georgian novel published in Europe now available in Georgia
By Messenger Staff
Tuesday, October 6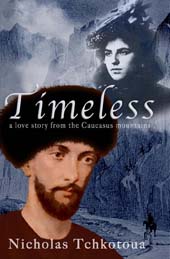 The internationally published novel written by a Georgian has just been translated into Georgian – and is now published here for the first time. Written in 1949 in English and published in California, the book was forgotten until last year when the English writer Peter Nasmyth found it in a bookshop in London. He republished it and the book was widely read and reviewed (by the BBC and Financial Times among others).
This passionate, but tragic love story between a Georgian Prince and Russian Princess is set in Paris, Tbilisi, Davos and the Caucasus mountains. It was the only book the author wrote and is mostly a true story. He left Georgia in 1921 and, unable to return, asked that his heart be buried in Georgia. His relatives smuggled it back to Tbilisi in 1988 and buried it in Vera cemetery. Now the book finally returns to Georgia, to accompany his heart.
To celebrate the republication of both the English and Georgian editions of the book the author's son, Charles Tchkotoua, flew in from Spain and Peter Nasmyth and David Tobin (owner of the London bookshop where it was found) also attended its Georgian launch on October 2.
Translated by Irakli Topuria and Kakha Jambouria, published by Bakur Sulakauri, the book's return to Tbilisi was toasted by a new wine created especially for the occasion. Like the love the book celebrates, it too is called 'Timeless.'