Burjanadze calls for united front
By Londa Mindiashvili
Tuesday, October 6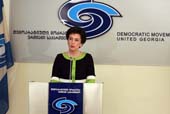 Nino Burjanadze, the leader of the Democratic Movement-United Georgia, is proposing to form a new coalition. Burjanadze held a briefing in the head office of the Movement on October 5 and appealed on other opposition parties to create a radical front.
"I will not dilute my efforts to disintegrate, isolate and destroy Saakashvili's criminal regime. I appeal on all parties to consolidate their efforts to save our homeland. I call on all radical opposition forces to join a common front based on appropriate action not competition between leaders," stated Burjanadze.
The former Speaker of Parliament said that the aim of the coalition would be to free the country of Saakashvili's regime, which cannot run the country properly, and resolve the current social and political crisis. She added that the conclusions of the Tagliavini Commission had created a real danger that Georgia would be internationally isolated. She explained that the coalition should comprise political forces which have confirmed that the only way to achieve their goal is not through dialogue but action which is both sharp and constitutional. She said street demonstrations and public consultations were both acceptable forms of political activity and the law allowed them.
Burjanadze said that Mikheil Saakashvili does not or cannot understand the current situation and is still telling people that he would do the same as he did in last year's war today in the same circumstances, despite the fact that the whole civilized world had declared his decisions criminal. "We will not be able to reconcile the Abkhazians and Ossetians with Georgia while the current Government rules the country. The Russian authorities use that situation very effectively and Saakashvili's regime is a natural ally for them," added Burjanadze.
Burjanadze said she had been holding negotiations with opposition political parties with the same goals, but would not say which parties these are, as the parties will make individual announcements when the consultations are complete.
Member of the New Rights Mamuka Katsitadze wanted to know more details. "According to my information there are no serious consultations being held with opposition parties. I do not know about this initiative and I am interested in what this 'democratic front' would actually mean in practice," stated Katsitadze.
Levan Gachechiladze, one of the leaders of Defend Georgia, said that all constitutional means of protest, including street demonstrations, were justified in order to save Georgia. "The idea of Georgia without Saakashvili is acceptable for everyone. Leaders are a necessity at elections, but our main goal is to remove Saakashvili from Georgia. It only takes desire, not leaders, to achieve this," said Gachechiladze.
"We welcome every initiative of this kind. The Conservative Party of Georgia will take part in consultations," Kakha Kukava, one of its leaders, told
The Messenger
. Labour's Soso Shatberashvili told us that his party has fought against the Saakashvili regime since 2003 and if other parties wanted to join them this would be fine. "But we will not join this new democratic front," Shatberashvili told this newspaper.
Political analyst Gia Khukhashvili told
The Messenger
that the idea of such a coalition is, of course, interesting and that such alliances are demanded by the Georgian public, as individual opposition parties cannot achieve anything worthwhile. "Whether this new democratic front can achieve its goal either is another issue, but I do not want to be very sceptical about this initiative and prefer to wait for developments," added Khukhashvili.