Danish Foreign Minister visits Georgia
By Mzia Kupunia
Tuesday, October 6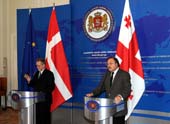 Danish Foreign Minister Per Stig Moller met his Georgian counterpart Grigol Vashadze on Monday. Speaking at a joint press briefing at the Georgian Ministry of Foreign Affairs, the Danish Minister said Georgia's future is in the European Union, adding that Denmark will support Georgia's EU integration.
"Georgia is an important state and it should act on the basis of its own decisions. It should grow closer to Europe and become a member of NATO and European Union. I do not mean that this must happen tomorrow, but this is to happen one day," Moller stated on October 5.
The Danish Minister said the EU is "doing everything" to ensure that last year's attack on Georgia is not repeated. He also said that the European Union had done its best to ease the post-war period for Georgia. He said that the EU is planning to strengthen its monitoring mission in Georgia, currently the only such international body observing the administrative borders of Georgia's breakaway regions. "The EU wants to strengthen the mission in Georgia. This issue is on the agenda of the organisation," Moller said.
Earlier on Monday Moller visited the EUMM headquarters in Tbilisi. According to an EUMM information note posted on its website the delegation discussed challenges and achievements in the implementation of the Mission's mandate as well as issues related to the condition of Internally Displaced Persons. Nine Danish monitors are serving with the EUMM in Georgia.
Georgian Foreign Minister Grigol Vashadze expressed his gratitude to Denmark for its support of Georgia. "Denmark is among the states which have always assisted Georgia," Vashadze said. He noted that Georgia's occupied territories, as well as Georgia's integration in Euro-Atlantic structures, were discussed at the meeting.
The Danish Foreign Minister is also planning to meet Parliament Speaker David Bakradze and President Mikheil Saakashvili during his visit. Today Moller is planning to visit Abkhazia and meet staff of the EUMM office in Gali. According to official information Moller will also visit Sukhumi, where he is planning to meet the de facto Government of Georgia's breakaway region of Abkhazia. On October 7, the last day of his visit, Moller will meet Georgian non-Parliamentary opposition representatives, the head of Abkhazian Government-in-Exile Giorgi Baramia and Secretary of the National Security Council Eka Tkeshelashvili.