Abkhazia expects recognition from "several CIS countries"
By Temuri Kiguradze
Tuesday, October 6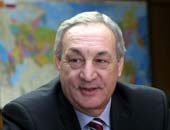 De facto leader of the breakaway Georgian province of Abkhazia Sergey Baghapsh has announced that he is "negotiating" with CIS countries on the possible recognition of Abkhazia as an independent state.
In an interview with Russian newspaper
Vremya Novostey
Baghapsh notes that "several countries" from the Commonwealth of Independent States, an association of former Soviet republics, may join Russia, Nicaragua and Venezuela in recognising Abkhazia and South Ossetia. He says that Belarus may do this in the near future. "We have met Alexander Grigoryevich [Lukashenko – the Belarus President] several times, I know his position, and this question will be decided today or tomorrow," stated Baghapsh, adding that Lukashenko has a "very good attitude" towards "our republics" [breakaway Abkhazia and South Ossetia].
Belarus has several times announced it would discuss the possibility of recognising the Georgian breakaway regions, but Lukashenko has refrained from taking a decision, noting that this question should be resolved by the Parliament of the country. This issue has not yet been added to the agenda of any session of the Belarus Parliament, however Lukashenko said on October 2 that Belarus had not recognised South Ossetia and Abkhazia due to the "actions of certain forces." He cited reports in the Russian state-controlled media which said that Belarus's reluctance to recognise the regions was a response to Russia's refusal to grant the remaining $500 million of a loan it had promised the country. "Someone in Russia wanted to force us [to recognise] or to prevent us because of this loan. As if I would have recognised or not recognised them for money! I said to them then, "Come on, guys! It won't be done your way," stated Lukashenko, as quoted by Russian news agency
RIA-Novosti
.
Earlier Sergey Bagapsh, speaking to the Russian
Ekho Moskvy
radio station, had noted that "there are many countries which may recognise Abkhazia and South Ossetia now" but added that Sokhumi is against being recognised by "some exotic states like Papua New Guinea." This statement was sharply criticised by Abkhazian opposition forces, who accused Baghapsh of showing disrespect to other sovereign states and hindering the international recognition of breakaway Abkhazia.
Meanwhile Sokhumi has announced plans to issue an "international passport". "We will order passport blanks from the Russian Federation and we expect to start printing our own passports within one or two months," Baghapsh said, adding that "this will allow [Abkhaz citizens] to travel to other countries."
Russia recognised Abkhazia and South Ossetia soon after the five-day Russian-Georgian war and started to build air, naval and land military bases in these Georgian regions. The international community has condemned this decision and the Georgian Government regards these territories as parts of Georgia occupied by Russian troops.
"The Kremlin continues to conduct the cynical policy it adopted against Georgia in the 90s of the 20th century and which on August 2008 resulted in an aggression against Georgia, the occupation of integral parts of this sovereign state and the ethnic cleansing of the Georgian population in the territory of this state," stated the Georgian Foreign Ministry recently, commenting on an announcement by Russia that it would intensify military cooperation with Abkhazia.