Another routine meeting in Abkhazia
By Messenger Staff
Wednesday, October 7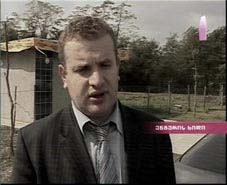 A meeting between Georgian and separatist Abkhazian representatives finished without any practical result on October 6.
The talks in the Gali region of breakaway Abkhazia, part of the Incident Prevention Mechanism agreed at the international negotiations in Geneva, lasted for three hours. The Georgian delegation, led by Interior Ministry spokesperson Shota Utiashvili, raised the issues of the security of ethnic Georgians living in the Gali region and other problems concerning them.
"There are no Georgian schools in the Gali region and Gali pupils are not able attend classes in the neighbouring village, which is under the control of the central Government, because Abkhazian forces won't let them," stated Shota Utiashvili after the meeting. He also noted that the Georgian side had expressed its protest at the relocation of Russian military helicopters near the administrative border of Abkhazia.
The sides agreed to conduct their next meeting in two weeks in the same format, still involving representatives of Georgia, breakaway Abkhazia, the Russian military command and the EU monitoring mission (EUMM).
Despite the regular meetings in Gali the situation in Abkhazia is still tense. On October 6 the Russian Federal Security Service, which commands the Russian coast guards deployed in Abkhazia, announced that Russia is going "to take a combination of force and political measures" to prevent Georgia detaining vessels en route to Abkhazia. Georgia detains these vessels under its law on the occupied territories, which forbids naval movement in Abkhazian waters without the permission of Tbilisi. General-Major Yuri Zvyrik, head of the Russian border guards in Abkhazia, noted that not only Federal Security coastguard boats but some vessels of the Russian Black Sea Fleet will escort ships going to and from the separatist region.
The situation in Abkhazian waters and other questions are among the issues which will be discussed by Danish Foreign Minister Per Stig Moller when he visits Sokhumi after negations with his Georgian counterpart Grigol Vashadze in Tbilisi.