Translators and interpreters conference held
By Messenger Staff
Wednesday, October 7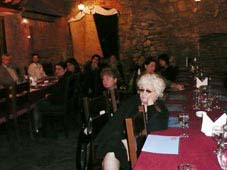 The Translators and Interpreters Association of Georgia held its first annual conference on October 3 in Tbilisi. Delegates were welcomed by the Chairman of the Association Professor Zaza Gachechiladze who briefed them about the goals and steps the Association is taking.
The Associationís main purpose is to create a corporate body of translators and interpreters in Georgia, protect their interests and copyrights and create a special body which will produce specific vocabularies for translators and interpreters to help them address the new terminology entering Georgia, to promote professionalism, creation of code of ethics and other issues.
Lawyer Khatuna Imnadze spoke about the legal aspects of protecting the copyrights of translators and offered her assistance in this. All the participants expressed their enthusiasm for participating in the activities of the Association, mentioning that the meeting was a necessary step in outlining the problems translators and interpreters face in performing their professional duties.
Professor Gachechiladze also informed invited colleagues that since its establishment the organisation had become a full member of the Three Seas Writers and Translators Centre based in the Greek City of Rhodos. It was also mentioned that the Norwegian Literary Translators Association, through Kopinor sponsorship, was supporting the Association financially. It also plans to apply for membership of the International Translatorsí Federation (FIT).
Participants suggested that such meetings should be organised more regularly and highlighted several issues which should become Association priorities, such as demanding more professionalism, special recommendation becoming a prerequisite of Association membership, the need for legal consultations and other issues. The conference ended with an informal dinner.
The Translators and Interpreters Association of Georgia was founded in 2007 by a group of enthusiasts involved in translating and interpreting activities.