Opposition call for investigation of "police murders"
By Mzia Kupunia
Thursday, October 8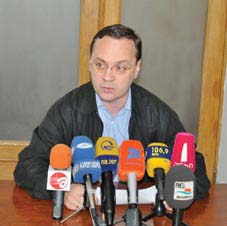 Opposition MPs have called on their colleagues to support the initiative of creating a Parliamentary Commission to look into "police murder" cases. This initiative was first voiced by young opposition activists Dachi Tsaguria, Irakli Kordzaia and Jaba Jishkariani on September 28, when they sent a note to Georgian MPs asking them to investigate "murders committed by the police".
Christian Democratic Movement representatives have said that they are ready to raise this issue in Parliament. According to legislation an individual Parliamentary group or ? of the total number of MPs may raise an initiative, however the final decision on it is made by ballot at the Parliament session.
Individual MP Gia Tsagareishvili called on MP to support the initiative on Tuesday. "This issue will lustrate every Member of Parliament," Tsagareishvili said. Speaking at a special press briefing on October 7, Tsagareishvili noted that opposition unity was needed in this matter. "We have moral obligations to these people," the MP said, referring to those who died during special operations carried out by the police. "These cases have still not been investigated and it is necessary that the perpetrators are punished," he added.
At the briefing Tsagareishvili criticised Georgian Troupe MP Jondi Baghaturia for "taking the Government's side" at Tuesday's session when he did not support the Christian Democrat demand to create a temporary commission to investigate the issue of pardoning prisoners. Tsagareisvhili said he will not support any more of Baghaturia's initiatives. The leader of Georgia's Troupe downplayed Tsagareishvili's claims, saying that Tsagareishvili is "merely trying to draw attention to himself."
Meanwhile, the Conservative Party has said it is creating a public commission to look into civilian deaths during police operations. One of its leaders, Lasha Chkhartishvili has said that there are also other cases of "illegal" actions taken by police officers which need to be investigated. Chkhartishvili said that the commission would be open to anyone and when someone applies the commission will check this and make it public. He said that advocates, NGO representatives and family members of those killed during police operations will participate in the commission.
The Conservatives say they have drawn up the list of 63 people "probably were killed by the police." Lasha Chkartishvili told The Messenger that the new commission will meet every 10 days and study cases individually, obtain additional documentation and draw "expert conclusions" about whether any wrongdoing by police officers had occurred. "The commission will study cases which have occurred since the Rose Revolution, however it might also then start studying older cases," he said.
Iuri Vazagashvili, father of Zurab Vazagashvili, who died during a special police operation on May 2, 2006, hailed the idea of creating a commission. "We will get results, and would have achieved good results if we had created the commission a bit earlier. There are many other cases of which society is not aware," Vazagashvili noted. "No senior officials have been punished so far," he said.