Russia will take over Abkhazian airspace
By Temuri Kiguradze
Thursday, October 8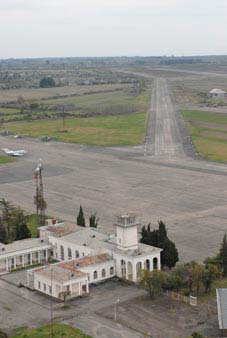 The Russian Transport Ministry is drawing up agreements which will allow Moscow to control the air transportation system in the Georgian breakaway region of Abkhazia. This was confirmed by the Press Service of the Ministry, which stated that the Minister of Transport has met Abkhazian de facto Economics Minister Christina Ozgan and discussed this issue.
Russian Minister Igor Levitin noted that the "effective management of Abkhazian communication will lead to the increase of Abkhazia's tourist potential." "In consideration of this we need to conduct some work to prepare the transport infrastructure for the expected increase in traffic. First of all we need to conduct a number of monitoring activities to evaluate the need for reconstruction and rehabilitation of the [Abkhazian air transportation] facilities," stated Levitin on October 6 in Moscow.
Georgian MP Paata Davitaia believes that Georgia should protest against this Russian action at the international aviation agency. "Sokhumi Airport was closed by this organisation, so if Russia conducts flights to it some measures should be taken; for example the agency could revoke the licenses of Russian companies using Sokhumi Airport," stated Davitaia on October 7.
The UN International Civil Aviation Organisation (ICAO) has imposed a ban on the operations of Sokhumi Airport and declined several appeals by the separatist authorities to review this decision. "There are just three ways flights from Russia could land in Abkhazia: if Abkhazia is recognised as an independent state by a majority of UN countries, if Tbilisi gives permission, or if Moscow turns a blind eye to "pirate flights" in violation of international rules," George Firican, the Deputy Director of the ICAO regional office, told The Messenger back in 2008.
Earlier the Russian and separatist Abkhaz authorities had signed an agreement introducing Russian telephone codes into Abkhazia. Previously the breakaway region used the international code standard for the whole of Georgia – 995, but in early September Russian Foreign Minister Sergey Lavrov announced that "all Abkhazian telephone operators will now use the Russian telephone code." "In the future we will discuss the possibility of independent phone codes for Abkhazia with the international community," he added.
Moscow has also taken over the postal service in the breakaway region, sending international letters and parcels through the Russian state post. "The Georgian National Communications Commission (GNCC) considers these decisions to be rude violations of international regulations by Russian Federation," stated Kakha Kurashvili, head of the GNCC juridical department, as quoted by Georgian media. Kurashvili noted that the takeovers of the Abkhazian telephone and postal systems violate not only Georgian and international but also Russian law, as Abkhazia is not a region of the Russian Federation.