NATO official gathers opinion in Georgia
By Gvantsa Gabekhadze
Friday, October 9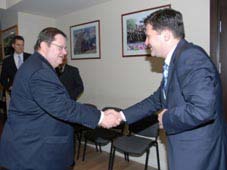 The NATO Secretary General's Special Representative for the Caucasus and Central Asia, Robert Simmons, met Minister of Defence of Georgia Bacho Akhalaia on October 9. The main purpose of this meeting was to conduct an initial review of the reforms being implemented by the Georgian military under the Annual National Programme imposed by NATO. The meeting was also attended by Deputy Minister Nikoloz Vashakidze and NATO liaison officer Zbigniew Rybacki.
"You all know that we maintain a close relationship with the alliance, currently expressed through the Georgian Armed Forces' participation in international peace support operations. During the meeting we also drew attention to the implementation of reforms and the Annual National Programme, which directly relates to future Georgian accession to NATO. The decision recently made in Bucharest vividly reflects NATO's position on Georgia's accession and enables us to say that Georgia will ultimately achieve alliance membership. We are working intensively in this direction", Akhalaia stated yesterday.
After the meeting Simmons made brief comments. "We evaluated the implementation of the reforms outlined in the programme. I would like to take this opportunity to welcome the possible participation of a Georgian peacekeeping mission in Afghanistan and believe that Georgia, through its international engagement, will make a valuable contribution in terms of maintaining security and stability in the region," Simmons stated.
The NATO envoy also met senior Georgian public figures, Parliamentary and non-Parliamentary opposition leaders and the representatives of the national minorities. "It is very important for NATO to know the national minorities' viewpoints about alliance and Georgia relations," said Simmons.
Rusudan Marshania, of the Chechnyan Women's Society, said: "I consider that NATO-Georgian relations have great importance for the country's future peace and security. These relations should not only be military. Each country deserves to be a member of this organisation and gain additional guaranties if it satisfies NATO's demands. Georgia really deserves to be the part of the alliance." Van Baiburt, the President's adviser on minorities affairs, added: "Georgia is the only country in the world which finances non-Georgian schools and other public minority institutions (theatres, cinemas) from the country's budget. The number of such institutions is more than 500, which is really impressive. So Georgia is an example of tolerance and NATO representatives should take this into consideration."
Opposition members met Simmons yesterday afternoon. Christian Democrat leader Giorgi Targamadze told TV journalists, "Our attitude to the alliance is the same as before and Tagliavini's report [on the Georgian-Russian war last August] will not influence it negatively. Georgia should be a NATO member country," said Targamadze. However Conservative Kakha Kukava said that Georgia will not become a NATO member while Mikheil Saakashvili is President of the country.