Georgia plans to decrease defence financing
By Temuri Kiguradze
Friday, October 9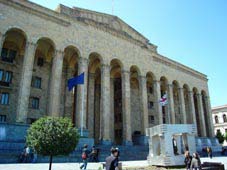 The financing of the Georgian Defence Ministry will be cut by about 150 million GEL (USD 90 million) according to the draft of the 2010 budget presented to the Georgian Parliament recently.
Under the draft the Defence Ministry's budget will be GEL 750 million (USD 450 million), down from GEL 897 million (USD 540 million) in this year and GEL 1.547 billion (USD 890 million) in 2008. However the Ministry has announced that the number of servicemen will not change, support for the military hospital and such important spheres as the military technical centre and the department of foreign intelligence bearing the brunt of the cuts.
Defence is not the only sphere which will see reduced spending. The draft budget states that Georgia's revenue in 2010 will be GEL 4.865 billion (as opposed to GEL 5.137 billion in 2009) and expenditure GEL 5.28 billion (GEL 5.527 billion in 2009). Funding for the Agriculture, Environment Protection, Refugees and Healthcare Ministries will also therefore be cut. This last suggestion has met with sharp protest from the Parliamentary oppositional parties, who stated that the Government was "dooming thousands of people to death" through failing to finance healthcare programmes.
"It's clear that Georgia has quite a problematic economic situation now and everything, including the defence system, should tighten its belt," Georgian military analyst Irakli Aladashvili told The Messenger on October 8. Aladashvili considers that reducing the military budget doesn't mean that the Army will be weakened. "Take a look at the previous numbers - some may say that the budget of 2008, a billion and a half, was too large, however we were then reconstructing the Army after the August war. Reduced financing will not destroy the Army if the allocated sum is correctly managed," Adalashvili stated, adding that "there should be the strictest control of each tetri in the budget. Other analysts and I have often told the public and the Government that some deals concerning the Army have not been correctly conducted and as a result millions of dollars have been spent in vain. This should not happen in future."
The draft law on the budget was presented to the Parliamentary Bureau session on October 8. The Bureau must schedule discussion of it and it must then be returned to the Government for consideration of amendments. The final vote on the budget is expected by the end of the year.