USAID renovates schools in the former conflict zone
By Messenger Staff
Monday, October 12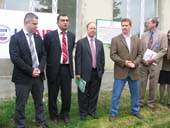 The U.S. Government announced the launch of the U.S. Agency for International Development's (USAID) School Rehabilitation Project on October 8. U.S. Charge d'Affairs Kent Logsdon and Minister of Education and Science Nika Gvaramia participated in the public announcement, which took place at the Tsitelubani Public School in the Gori district.
USAID's Rehabilitation Project is working with the Ministry of Education and Science, regional and district level education officials, school administrators, parents and students to identify rehabilitation priorities and to plan projects to improve the learning environment for approximately 3,500 students. The project will ensure schools meet minimum standards for the physical learning environment and provide flexibility for local stakeholders to determine priorities above and beyond the minimum standards.
The School Rehabilitation Project is being funded as part of a $1 billion pledge to the people of Georgia. The $2.9 million project will provide funding for the renovation and repair of at least sixteen schools located in the former conflict zones of the Gori and Kareli districts.